Radiform
Our Dual Wall Heat Shrink Kit is ideal for those working with cables in the auto, electronics, marine or telecommunications areas. This kit contains 3 sizes in both red & black for sealing, insulating and colour coding cable joins and terminations.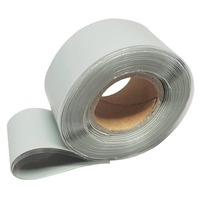 A versatile tape that can be used for everything from sealing pipes and hoses to general waterproofing and electrical cable splicing. This tape is easy to use, sticks to itself well and is available in convenient, 3 metre long rolls.
Containing 130 total pieces made up from 5 different colours and 6 different sizes, our Heat Shrink Kit is a must-have for workshops, garages and boats. Made from industrial-grade heat shrink, it's ideal to keep on-hand.