We pride ourselves on being as flexible as possible and are pleased to offer several different ways to shop. This page provides information on all the different ways you can place an order, request / generate a quote and the payment options available.
You'll notice that this page doesn't cover shipping / delivery related questions. We've put together a separate page for those which can be found under "Shipping & Returns" in the main menu.
Though we've tried to cover all common queries, we simply couldn't cover every single aspect so if you do have questions we haven't been able to answer here, please do contact us. We're always happy to help.
With over 5,000 individual products available online, and a range that's growing quickly, we've tried to give you a variety of options to browse our products or quickly find the one you're looking for.
When we use our website, we tend to look for a particular product in one of three ways:
Search.
Browsing by Category.
Using the Filters to Narrow a Selection.
Search.
This is probably the most straight forward and is ideal if you know exactly what you're looking for. The Search Bar at the very top of the page (with the words "Search the store" in it) will let you search our entire catalogue in one place. It doesn't rely on exact match so searching for something like "rubber glue 2410" will still find you our selection of GMK 2410 Rubber Metal Contact Adhesive sizes.
Search is also extremely useful if you already know the part number / SKU for the item you're looking for (e.g. you're reordering from an old invoice). Searching by this number will almost always surface that particular item as the first result.
Browsing By Category.
Using our product categories to find the products you're after is a great option when you're looking for multiple sizes of a particular product, aren't sure exactly what you need (e.g. you want to look at all our sizes of Heat Shrink End Caps) or the search results are a little too generic.
The product menu is always available at the top left of your screen. On desktop, it will be a blue bar named "PRODUCTS". On mobiles or tablets, it will be accessible by clicking the three horizontal lines.
All of our main categories have numerous sub-categories that you can use to drill down your search. Used in conjunction with the filters mentioned below; this is a great way to find a range of options to compare.
Using Filters to Narrow a Selection.
When you're looking at a product category or the search results page, on the left hand side of your screen (on desktop, on mobile click the Product Filters button at the top of the list) you'll see a number of options to let you filter the results. These cover all the basics like colour, various size attributes and more.
When we're browsing our site, we often use these filters to quickly narrow down a search based on a customer's particular requirements (e.g. white elastic adhesive or 25mm thick rigid heat insulation).

Adding Items to Your Cart.
Once you've found the product you want to buy, simply choose the quantity needed and click Add To Cart on the product page, from the quick view or from the bulk list.
Once you've added all the products you need, you can see a summary of your order by clicking the View My Cart pop up that will appear when you add an item, or by clicking the Shopping Cart icon at the top right and then clicking View Cart.
On this page, you can change quantities or remove items from your order. Once you've made all the changes needed, click Checkout Now to complete the order.
Additional Feature for Returning Customers.
For those of you who have shopped with Swift before firstly, thank you. Secondly, we are happy to offer you a way to quickly reorder items previously purchased. First, just make sure you're logged in to your account (there's a login option up the top of the screen).
Once that's done, a menu will appear called Account. Here you can view previous orders (and re-order them) view items in Wish Lists you may have created, change your address and contact details and even see a list of items you have recently viewed (at least while logged in).
For some of you, this could be handy in situations where you need to duplicate large orders or track down, get more information on something ordered a while back or track down an old invoice.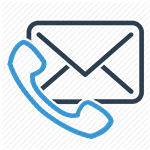 Placing Orders by Phone or Email.
We are much more than just a website and understand that many of you are either unwilling, or unable due to company policies, to place orders online. That's no problem. We are more than happy to accept purchase orders by phone or email.
Our contact details are listed on our Contact Us page and we're available Monday to Friday.
This is also the suggested method for when you need a custom item not offered by the website. We cut many of our products and materials to size ourselves and are therefore happy to offer other sizes on request. To find out if we can help with your custom requirement, please do contact us.
Obtaining and/or Proceeding with a Quote.
Generating a Quote Online.
For those of you who simply need a quote, we are pleased to offer a self-serve option for this as well. To generate a quote for anything available from our Webstore, simply add the items to your shopping cart then proceed to the View Cart page.
Here, you'll see an option to Create Quote from Cart. Click this, fill out the additional details and you'll be able to download a pdf copy. Quotes generated this way have a default validity of 7 days.
Viewing and Proceeding with your Online Generated Quotes.
If you'd like to proceed with a quote you've generated using our website, you can do so online or by contacting us.
To complete the online method, go to the Account Menu up the top right of the screen and click Account Home. Scroll down a little (or click My Quotes) and you'll see a list of all your current quotes. Click the Quote ID to open the one you want.
Here, you can double check all details are correct and, when ready, click the green Approve Quote button to convert the quote into an order. This will begin the checkout process.
Getting a Quote by Contacting Us.
Another way to get a quote for any item on our website (or custom items) is to contact us. This can be done by calling, emailing or filling out the form on our contact us page. Whichever suits you best.
For obvious reasons, we suggest this method for custom requirements.

For Orders Placed on the Website.
Here at Swift we're always trying to be as flexible as possible. This extends to the number of ways to pay we offer. For orders placed via our website, the following are all available:
PayPal
Payment via a Paypal generated Invoice is an option. Please contact us if you would like to organise this form of payment.
Mastercard / Visa
If you'd prefer not to enter your credit card details online but still want to pay via credit card, that's no problem at all. Simply place the order but choose Bank Deposit as the payment method. Then, give us a call, mention the order ID and we can process the credit card over the phone.
Bank Deposit
Please note, orders placed using this method will not be processed until payment is confirmed. To reduce the potential for delays, if you could please email through a copy of the remittance to service@swiftsupplies.com.au it'd be really, really appreciated.
Trading Account
For approved business customers. For more information on these please see the dedicated section below.
For Orders Placed via Phone Email.
For orders placed over the phone or by email we can accept payment by Mastercard, Visa, Bank Deposit. Payment via a Paypal generated Invoice is also an option. Please contact us if you would like to organise this form of payment.
Trading Accounts for Businesses.
For our business customers, we are pleased to offer the option to open 30 Day Trading Accounts. This gives you the ability to shop using our online store, by phone or by email with all purchases added to your account. For more information on these, or to obtain the short form (it's really simple) necessary to apply, please do contact us.
These are only available for registered businesses.