How to Shop with Swift Supplies.


We pride ourselves on being as flexible as possible and are pleased to offer several different ways to shop. This page provides information on all the different ways you can place an order, request / generate a quote and the payment options available.
Quick Links to various sections.
Requesting / Generating Quotes.
Payment Options for different order types.
It doesn't cover every single aspect so if you do have questions we haven't been able to answer here, please do contact us. We're always happy to help.
Adding Items to Your Cart.
Once you've found the product you want to buy, simply choose the quantity needed and click Add To Cart on the product page. Most of our products are available in multiple variations (different sizes, thicknesses, colours) so just be sure you've chosen the configuration needed before you do this.
Once you've added all the products you need, you can see a summary of your order by clicking the View My Cart pop up that will appear when you add an item, or by clicking the Shopping Cart icon at the top right and then clicking View Cart.

On this page, you can change quantities or remove items from your order. Once you've made all the changes needed, click Update My Changes then click Checkout Now to complete the order.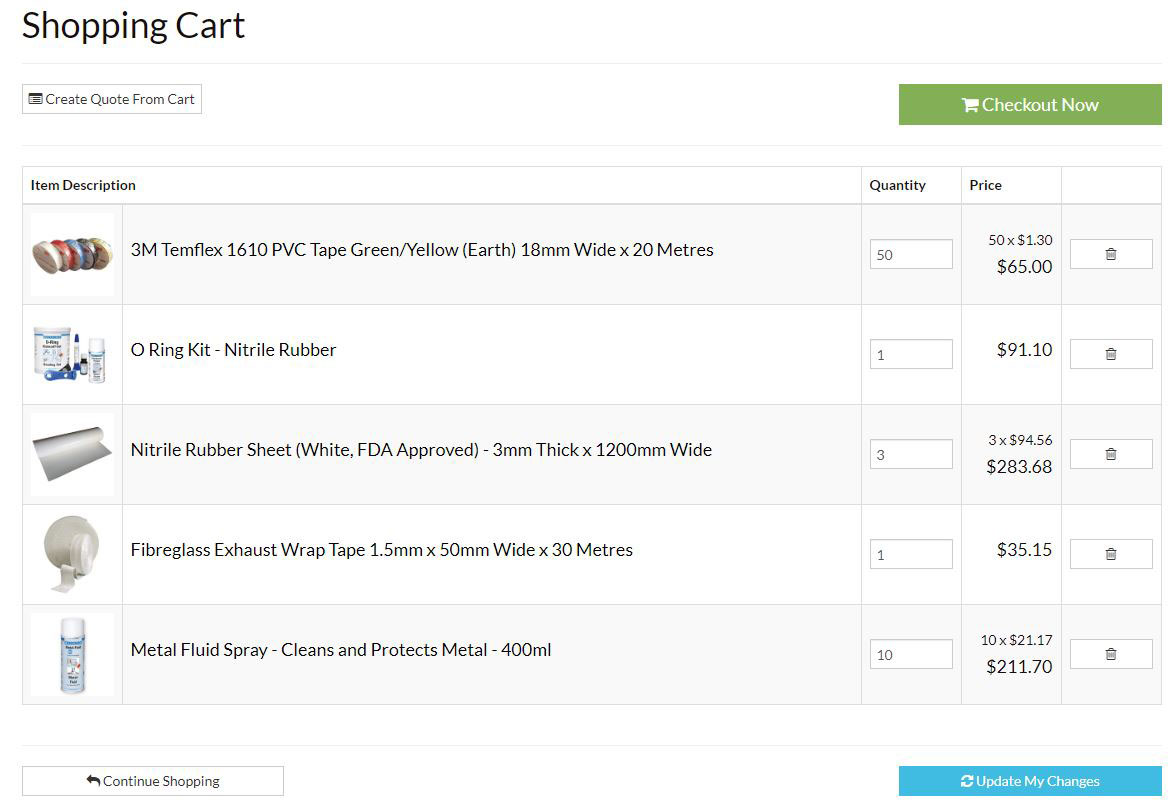 Additional Feature for Returning Customers.
For those of you who have shopped with Swift before firstly, thank you. Secondly, we are happy to offer you a way to quickly reorder items previously purchased. First, just make sure you're logged in to your account (there's a login option up the top of the screen).
Once that's done, a menu will appear called Your Name's Account. Here you can click favourites to see a list of previously purchased items or click Account Home, Reorder Items to see the same list. For those of you who need to keep stocked up on the same items semi-regularly, this can save a little bit of time.
Placing Orders by Phone or Email.
We are much more than just a website and understand that many of you are either unwilling, or unable due to company policies, to place orders online. That's no problem. We are more than happy to accept purchase orders by phone or email.
Our contact details are listed on our Contact Us page and we're available Monday to Friday.
This is also the suggested method for when you need a custom item not offered by the website. We cut many of our products and materials to size ourselves and are therefore happy to offer other sizes on request. To find out if we can help with your custom requirement, please do contact us.
Generating a Quote Online.
For those of you who simply need a quote, we are pleased to offer a self-serve option for this as well. To generate a quote for anything available from our Webstore, simply add the items to your shopping cart then proceed to the View Cart page.
Here, you'll see an option to Create Quote from Cart. Click this, fill out the additional details and you'll be able to download a pdf copy. Quotes generated this way have a default validity of 7 days.

Viewing and Proceeding with your Online Generated Quotes.
If you'd like to proceed with a quote you've generated using our website, you can do so online or by contacting us.
To complete the online method, go to the Account Menu up the top right of the screen and click Account Home. Scroll down a little (or click My Quotes) and you'll see a list of all your current quotes. Click the Quote ID to open the one you want.
Here, you can double check all details are correct and, when ready, click the green Approve Quote button to convert the quote into an order. This will begin the checkout process.


Getting a Quote by Contacting Us.
Another way to get a quote for any item on our website (or custom items) is to contact us. This can be done by calling, emailing or filling out the form on our contact us page. Whichever suits you best.
For obvious reasons, we suggest this method for custom requirements.
For Orders Placed on the Website.
Here at Swift we're always trying to be as flexible as possible. This extends to the number of ways to pay we offer. For orders placed via our website, the following are all available:
PayPal
Payment via a Paypal generated Invoice is an option. Please contact us if you would like to organise this form of payment.
Mastercard / Visa
If you'd prefer not to enter your credit card details online but still want to pay via credit card, that's no problem at all. Simply place the order but choose Bank Deposit as the payment method. Then, give us a call, mention the order ID and we can process the credit card over the phone.
Bank Deposit
Please note, orders placed using this method will not be processed until payment is confirmed. To reduce the potential for delays, if you could please email through a copy of the remittance to service@swiftsupplies.com.au it'd be really, really appreciated.
Trading Account
For approved business customers. For more information on these please see the dedicated section below.
For Orders Placed via Phone Email.
For orders placed over the phone or by email we can accept payment by Mastercard, Visa, Bank Deposit. Payment via a Paypal generated Invoice is also an option. Please contact us if you would like to organise this form of payment.
For our business customers, we are pleased to offer the option to open 30 Day Trading Accounts. This gives you the ability to shop using our online store, by phone or by email with all purchases added to your account. For more information on these, or to obtain the short form (it's really simple) necessary to apply, please do contact us.
These are only available for registered businesses.