Epoxy Adhesives, Coatings & Compounds

Epoxies are used in all kinds of industrial, commercial, hobby and DIY applications. These extremely versatile products are known for their excellent bonding strength and ability to set hard. They are also available in a variety of different types for different jobs.
Our range of Epoxy Resin Based Adhesives covers many different kinds of epoxies. Within this range you will find everything from high strength bonding agents that work with all kinds of materials to specialised, filled epoxy compounds that can be moulded into shape or provide extreme wear and abrasion protection that is superior to steel. Because of the sheer number of products on offer, we've broken the range up into the following sections:
Fast, simple and extremely versatile, Epoxy Repair Sticks are ideal for all kinds of repair and maintenance work. These putties can be used for sealing, gap filling, bonding, surface repair, hole filling and much, much more. There's no complex mixing and they are very long lasting. Several different grades are available so you can choose the best one for you. Repairs to copper, aluminium, plastics, wood, steel, concrete, brick and even underwater objects are all covered.
We've also put together a guide to help you choose the best repair stick for you which can be found here.
Here you will find our adhesives focused primarily on extremely strong bonding. These epoxy glues are all two-part adhesives but the complex mixing has been taken out of the equation through the special packaging. Each grade offers a different set of benefits (cure time, material compatibility, pot life, etc…) with more options being added all the time.
Ideal for fast, cost effective and durable repairs, bonding and coating of all kinds of materials. The Weicon Plastic Metal range includes several different types of epoxies that can be used for all kinds of DIY, industrial, construction and commercial applications.
All are two-part epoxies that are either pure epoxy (like our casting resin) or filled to modify their properties. This means there are grades capable of extreme temperature resistance (280°C), withstanding very high degrees of abrasion, creating high strength bonds, or rebuilding broken metal parts.
Epoxy Adhesives & Coatings Subcategories.
Click any of the images below to drill down to just those products.
---
1 Related Content Piece(s) Found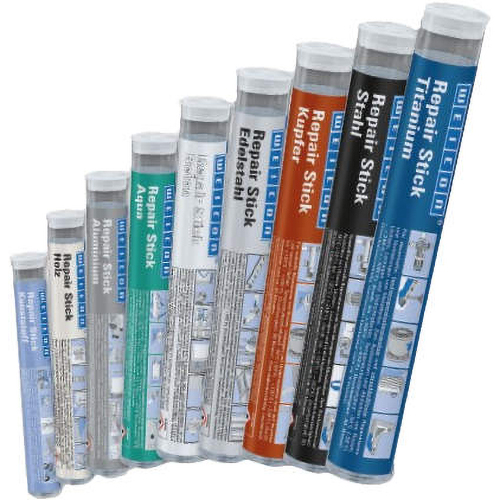 Epoxy Repair Sticks – Fast, Simple, Permanent Repair Putties
In this guide, we explain the main differences between each of our Epoxy Repair Sticks. Where they're used, and how they work.