One of the questions we are often asked is, which wire stripper handles the greatest number of cable types & sizes? Makes sense. Space in an electrician's toolbox is limited, and those looking to do some electronics work at home don't want to have to buy a different tool for every type of cable they work with.
Today, I'm going to try and answer this question; sort of. Over the past few weeks we've studied the capabilities and features of each tool in our range. In a couple of weeks, I'll present our most versatile. In the meantime, our number 2 ranked tool did so well in terms of what it can do for the money, I wanted to dedicate a post just to it.
Don't let the name fool you, our No. 5 tool is, in our opinion, our number 2 when it comes to versatility. This automatic cable stripper combines excellent cable type compatibility, the ability to strip a wide range of cable and wire sizes, an integrated side cutter, an adjustable length-stop and a series of smaller, yet handy, features all in one single tool.
Throughout the rest of this post I'll provide a little more information on each of these features and detail how these functions work.
Self-Adjusting, Automatic Cable Stripping.

When working with numerous types and sizes of cables, taking the time to manually adjust the setting on your cable stripper can be a little tedious (and this is coming from someone who sells manual cable strippers). What's worse, forgetting to adjust it at all and either having to re-do the job or damaging the conductor by taking off more than just the insulation (done both a few times).
The solution; a cable stripping tool that automatically adjusts to the size of cable you're working with.
Our Automatic Wire Stripper No. 5 can strip back the insulation (and just the insulation) from almost any cable or wire between 0.2mm² and 6mm² cross-section (24 – 10 AWG). There's no need to set or calibrate it first, just insert the end of the wire into the mouth of the stripper and pull the trigger.
This tool has been designed from the ground-up to ensure fast, easy & highly accurate stripping. Unlike many knock-offs we've seen, genuine Weicon Stripping Tools will not inadvertently damage the conductor, nor will they only partially remove the insulation.
Strips Many Different Types of Wires & Cables.
What's the point of having an automatic stripper if it can only be used with certain types of cables? Once again, our Automatic Wire Stripper No. 5 won points in the versatility stakes here because of its wide-ranging cable compatibility.
We've used this tool ourselves to strip everything from urethane coated wire used for an electric-collar dog fence (don't ask) to silicone coated wires for high temperature electronics and standard PVC coated control line cables. We even used this tool to make some wire extensions (using that common green coated garden tie-wire) for Christmas decorations.
Our experience only goes so far though, so we took the time to map out a more detailed list of the different cable types this tool can be used to strip. As you can see from the graphic on the right, our Automatic Wire Stripper Number 5 can be used with a large range of cable and insulated wire types including single and multi-core variations.
(Quick Reference Guide Image on the Right Can be Expanded by Clicking On It, it can also be downloaded).
Integrated Side Cutter for Cutting Wires & Cables.

In the handle of the No. 5 Wire Stripper, you'll find the integrated cutter. This can cut cables up to 2mm in diameter and is incredibly handy for cutting a wire to length before you strip it.
There's nothing amazing about this function; let's face it most pliers can do this. It still scored points in the versatility stakes though because its one more thing that can be done with this tool. Meaning one less aspect that could necessitate carrying more than one tool for a job.
Again, in our own experience with this tool, and from listening to reports from our customers; what came up again and again was how the No. 5 Stripper can handle so many parts of the wire stripping job. In our time using the tool, it's consistently been the only tool we've taken with us when we've had to do some small cable work.
Adjustable Length-Stop for Easy, Accurate Conductor Exposure.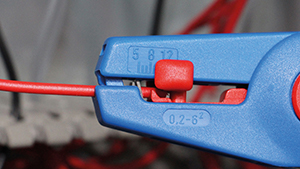 Another great feature of the No. 5 is its adjustable length gauge. This can be adjusted so that it will strip back between 5mm and 12mm of insulation from the cable end which makes it perfect for all kinds of cable stripping work.
Located right near the "mouth" of the stripper, this gauge is easy to adjust and has a series of stop points (I count 8) built in. Measurements are engraved into the strippers casing and are given in both metric and imperial.
This small feature makes it easy to adjust the exact length of conductor bared when you strip back the insulation. Another contribution to this stripper's versatility.
Professional-Quality Tool with Many (Other) Benefits & Features.
With its combination of automatic adjustment to cable sizes, wide-ranging cable compatibility, integrated cutter and adjustable length-stop; this cable stripping tool has already established its versatility.
That's not the end of the features packed into this tool though. The following is a list of some of its other, less obvious, features that really makes it one of our top suggestions for any electronics enthusiast, hobbyist, DIYer or professional electrician.
Safety.
Can be safely locked in a closed position so it takes up less space in the tool box or can be kept in your pocket.
This "locked" position is toggled on or off by the switch at the back of the top portion of the tool. Years of in-house testing has been done to make sure that the switch is easy to flick yet doesn't do so by itself when left in a pocket or rattling around in a tool box.
When in the locked position, none of the No. 5's blades are accessible (including the side cutter).
Safety tested and approved by TUV Nord.
Based in Hannover, Germany this world-wide organisation conducts all kinds of inspection and certification tests. Our Weicon No. 5 Automatic Cable Stripper has been tested by TUV.
Easy to Use.
Lightweight & Compact.
The No.5 Cable Stripper weighs just 105gm so it won't weigh down your tool-belt or tool-box too much. It has a total length of 165mm. The fact it can be locked in a closed position helps reduce the amount of storage space it takes up.
Familiar, Trigger-Action.
Weicon have been manufacturing cable stripping and electricians' tools since 1967. Over the decades, they have spent considerable time and effort studying the best way to produce an easy to use, ergonomic tool. In our opinion, the No. 5 Automatic Wire Stripper is a shining example of the fruits of these efforts.
The trigger action is smooth and instinctual. Little things add up with tools, like the amount of resistance in the trigger. Obviously, this is a personal viewpoint, but I feel that the No. 5 has it about right. Not so easy to pull that accidents are likely, not so hard that you're likely to feel the effects. If there's a goldilocks zone for trigger-resistance in cable tools, I think the No. 5 is in it.
Ergonomic Design.
Somewhat linked to the above point, the No. 5 Automatic Wire Stripper is a good example of the time and energy that Weicon have put into listening to customer feedback. The smooth handle naturally fits your fingers making this tool a joy to use.
Professional-Grade Tool with High Quality Construction.
Durable, Strong Casing.
The casing for our Automatic Wire Stripper No. 5 is made from very high-quality polyamide with fibreglass reinforcement. This tough, strong, lightweight plastic won't crack and withstands damage from impact and drops.
High Quality Knife Blades from Solingen, Germany.
One of the most important parts of any cable stripping tool are the knife blades. Good, sharp, lasting blades are needed to consistently cut the insulation and poor-quality blades will lead to damaged conductors, incomplete stripping and reduced tool life.
The blades for the No. 5 are steel blades from Solingen, a German town known for making impeccable steel. They are exceptionally high quality and subject to numerous quality inspections to ensure reliability (more on this in the video below).
Of course, even the highest quality steel blades will wear and dull over time. If it's ever required, the blades on the No. 5 Automatic Wire Stripper can be replaced.
Summary
Taking into account all of the features and benefits offered by this tool, I hope it's clear how we decided it was worthy of honourable mention as our 2nd most versatile automatic wire stripper.
The No. 5 can handle a huge variety of wire & cable sizes & types, can cut cables and wires up to 2mm Ø, can be locked for safety and transport and has an adjustable length-stop. This cable stripper is lightweight, easy to use and very long lasting. Overall, this tool is the one we are most likely to suggest for DIYers, home electronics enthusiasts, model makers that work with electronics and many electricians.
In a few weeks, we'll reveal our pick for our most versatile cable stripping tool (which can do most of what the number 5 does, plus a little more and is geared more toward heavy-duty, industrial and commercial users). In the meantime, we thought we'd finish this post by sharing two videos. One, an overview and demonstration of the No. 5 Automatic Wire Stripper. The other, a great video that provides more information on the entire range of Weicon Cable & Wire Stripping Tools and Electricians Knives.
Our Weicon Automatic Cable & Wire Stripper No. 5 is available now via this link.
P.S. If you simply can't wait for the new post, our most versatile automatic cable stripper is our No. 7 Magic. We'll explain why in a few weeks.