Filter By Thickness

Filter By Width

Filter By Colour

Filter By Stock

Filter By Price Range
Aramid Thermal Insulation Cloths (340°C)

Our Aramid Insulation Cloth is a high-quality thermal insulation textile manufactured in the USA. This cloth is produced using an Aramid fibre blend that is spun over a fibreglass core. These textiles are then woven into a cloth which exhibits excellent physical strength, abrasion and tear resistance.
Aramid Cloth is available by the linear metre and is a flexible, easy to work with fabric that can be wrapped, sewn or folded with ease.
The filters on the left (above on mobile) can help you navigate quickly to find just the style you're after. For more information on the material itself, including specifications and typical applications, click on the any of the sizes in the list for a full description and related content.
---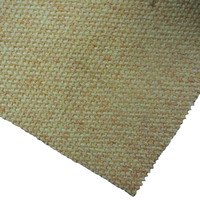 Tough, abrasion resistant and strong. Our Aramid Insulation Cloth has excellent physical and mechanical strength yet is flexible enough to be folded, wrapped or sewn with ease. Withstands 340°C and available by the metre.