Theres no denying that our 3M Double-Sided Adhesive Transfer Tapes are are a very popular item. Frequent users know that there is simply no substitute forthis product if you are looking for a high-strength, ultra-thin layer of double-sided acrylic adhesive.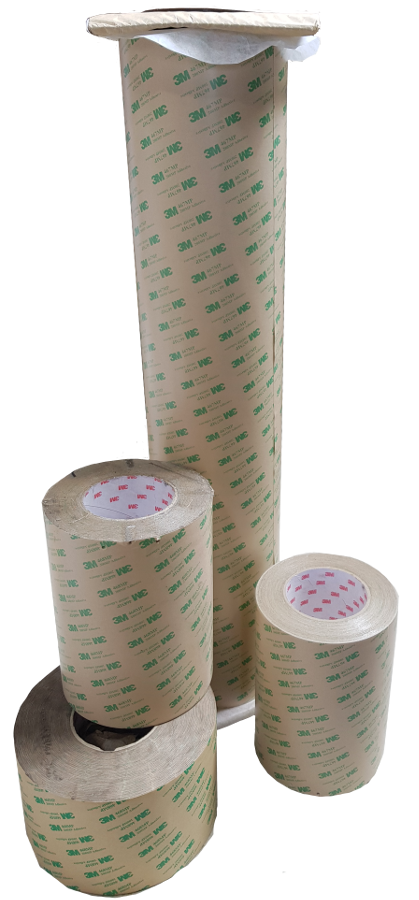 There are so many uses for this product from mounting to bonding and laminating. It is used to provide a handy adhesive layer and sticks well to a range of different surfaces.

These 3M Adhesive Transfer Tapes are used throughout many industries such as in the electrical game for securing antennas, batteries and wiring. They are also used in signmaking, model making, making cards, nameplates and graphic overlays and more and more uses are popping up every day.

However, as word spread about the great prices we are offering for both the 3M 467MP and 468MP grades of Double-Sided Adhesive Transfer Tape we began fielding lots of inquiries from larger-volume users who would prefer to purchase this quality product in larger widths. So we have listened! We now offer a complete range of standard widths available all the way up to 400mm. To take a look at the new range of sizes and prices, head over to the
product page now.
Custom Widths Also Available
Did you know that Swift Supplies offers a complete range of tape conversion services. That means that a huge range of our tapes are available in custom widths. If you are after a non-standard width that isn't available on our Webstore, simply contact us on and if it's possible, we will give you a price!
What is the difference between these two grades of Transparent Double Sided Adhesive?
Both grades of acrylic liner can handle temperatures of between -40°C and 149°C, but the main difference between 3M 467MP and 468MP is thickness. The adhesive part of 467MP (without the liner) is 0.06mm thick while 468MP is a little bit thicker at 0.13mm. This may not seem like much but it does have an effect on the technical properties of the grades. The table below provides a comparison between some of the most important technical features.

| | | | | | | |
| --- | --- | --- | --- | --- | --- | --- |
| Grade | Thickness | Dielectric Strenth | Adh. to Aluminium | Adh. to Acrylic | Adh. to Glass | Adh. to Polycarbonte |
| 467MP | 0.06mm | 880 Volts/mil | 21 N / 25mm | 17 N / 25mm | 22 N / 25mm | 16 N / 25mm |
| 468MP | 0.13mm | 600 Volts/mil | 32 N / 25mm | 19 N / 25mm | 25 N / 25mm | 18 N / 25mm |