Refrasil High Temperature Abrasion Resistant Cloth is now available from Swift Supplies.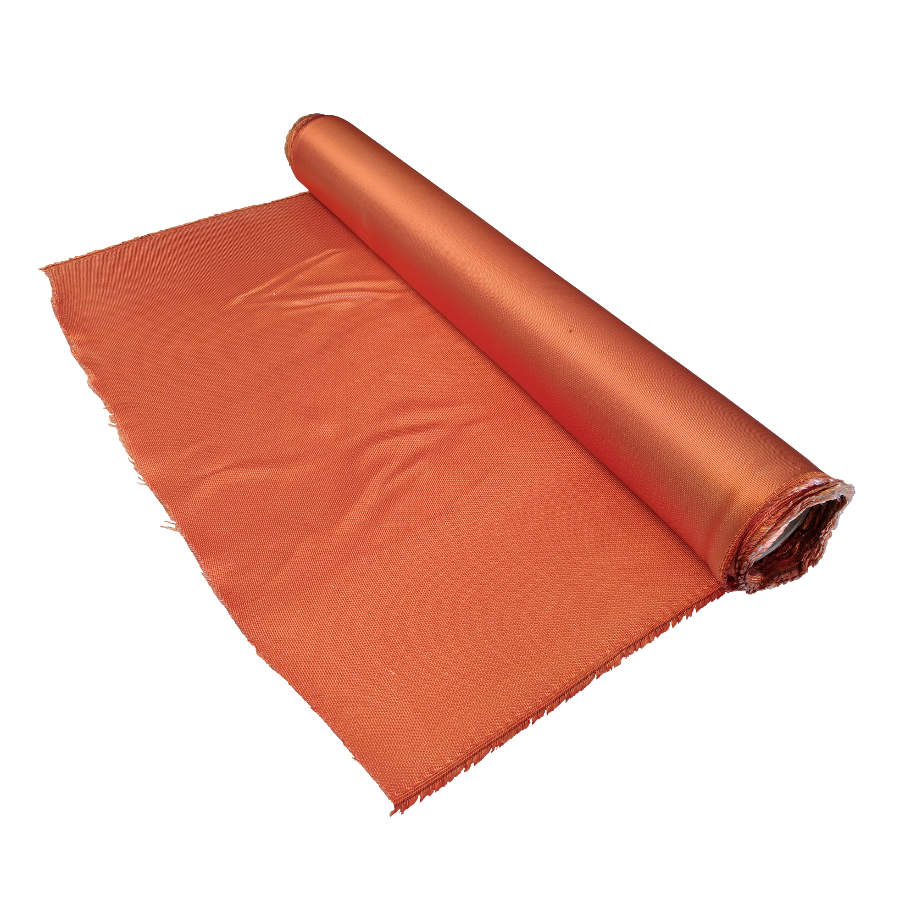 Designed for demanding industrial applications, Refrasil is a high quality thermal insulation cloth that insulates at temperatures up to 982°C. This high temperature protection makes Refrasil perfect for welding curtains and screens, pipe insulation, automotive heat shields and fireproof building insulation.
Our newest addition to our ever-expanding range of heat insulation materials, Refrasil is manufactured from silica fibre by Hitco in the USA. This particular grade, Refrasil AR, is then coated with an abrasion resistant finishing that gives it its distinctive orange-rusty appearance. The abrasion resistant finish significantly increases the cloths ability to resist tearing or ripping and makes it more suitable for use as an insulation when it may be moved or subjected to mechanical stress.
We are pleased to be able to offer our new Refrasil Abrasion Resistant High Temperature Cloth in two thicknesses; 0.8mm and 1.5mm. Both thicknesses are available by the lineal metre in 914mm wide.
In our years of experience with Refrasil Abrasion Resistant Cloth, we've seen it used for a variety of different insulation applications. Just some of these are…
Welding Blankets, Screens and Curtains
Refrasil's excellent thermal properties and enhanced abrasion resistance have made it a popular choice for making welding screens, blankets and curtains. It withstands direct weld spatter and is tough enough to handle the inevitable abrasion that will be exerted on it as it's moved around.
Refrasil is also very easy to handle with good flexibility which makes it a popular choice for those who want to make their own welding blankets or curtains. One tip, if you are planning on hanging the cloth to make a curtain or screen, it really is best to put some eyelets through to prevent tearing.
Pipe Insulation
Whether it is being used as a simple pipe wrap or fashioned and sewn into a pipe insulation sleeve, Refrasil's combination of very low thermal conductivity, enhanced abrasion resistance and high temperature resistance makes it a popular choice for high temperature pipe insulation.
When it's decided that there's no need for custom made insulation, it is common for the Refrasil cloth to be cut, wrapped and fixed with wire. Metal eyelets inserted into the Refrasil cloth can make this a lot easier and reduce the chances of tearing.
(High) Heat Resistant Mufflers and Silencers
A few wraps of Refrasil cloth will dampen temperatures quite considerably. This high temperature cloth has also proven to have good acoustic insulation properties making it a popular choice for the manufacture of heat insulating and noise dampening mufflers and silencers.
In these applications, Refrasil is usually used on performance-grade equipment known to generate large amounts of heat. It can be cut to size very accurately while it's abrasion resistant coating helps ensure a long service life.
High Temperature Seals and Gaskets
Typically used to seal air lines, Refrasil's ability to withstand extreme temperatures makes it a good choice for making high temperature gaskets or seals. These are usually used only for low pressure sealing.
Pump Covers / Insulation Blankets
Usually employed to protect personnel or surrounding objects from the heat generated by industrial pumps, motors and equipment; Refrasil is an excellent choice for simple or custom-made pump covers. It has excellent thermal properties which allows you to use only a thin layer and still achieve good results. Its abrasion resistant coating also helps it withstand wear and tear if it will need to be removed to allow access to the pump.
Expansion Joints and Bellows
Refrasil has often been used in composite bellows or expansion joints due to its superior temperature resistance and good physical properties. Though it does not carry the same thermal rating as a ceramic cloth (typically 1200°C) its ability to handle up to 982°C does place it far ahead of fibreglass based textiles (typically around 550°C depending on construction).
As a woven fabric, Refrasil will not form a liquid or air tight barrier by itself. It is for this reason it is often used in conjunction with a more solid thermal barrier (such as rubber coated fibreglass or foil faced cloth) to form a composite expansion joint or bellow. In these applications, the Refrasil is usually deployed as the inner layer to provide the thermal insulation while the lower temperature rated, solid material is used for the outside. In such situations, Refrasil's excellent chemical resistance can also be of great assistance.
Fireproof Building Insulation
Refrasil cloth is not widely used in construction as its temperature rating tends to be bit of an overkill in these applications. That being said, from time to time a situation has required a thin, flexible, non-flammable insulation cloth to form part of a fireproof insulation system.
In such situations, Refrasil has been used as it is not only a very good thermal insulator, but it is also non-flammable. Refrasil Abrasion Resistant Cloth will not melt until temperatures reach over 1650°C meaning that it can be relied on to continue to perform up in all but the most extreme of environments.
Other Applications for Refrasil Cloth
Over the years, Refrasil has been used in all kinds of industries for myriad applications. The aforementioned examples really are just some of the ones we've seen. If you would like to discuss Refrasil's suitability for your particular project, or need more information on its specifications and capabilities, please do contact us. We'll be happy to help.