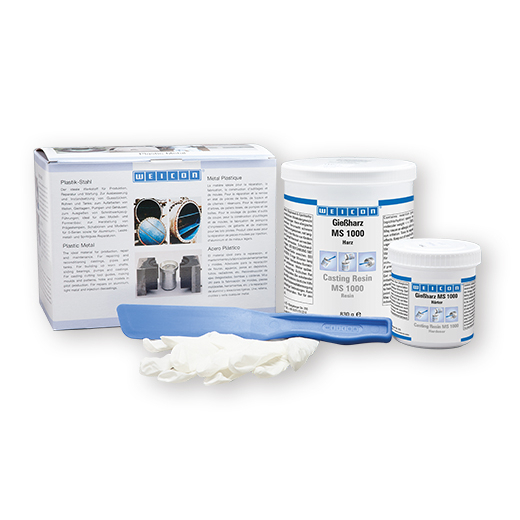 Here at Swift we are very happy to introduce our new Weicon Epoxy Casting Resin MS 1000. This versatile epoxy kit has a huge range of potential uses and applications including bonding, filling, casting, coating and more.
Manufactured by Weicon in Germany and available here in easy to use 1kg kits, Epoxy Casting Resin is a two-part epoxy. Once you mix the two parts together, you'll have a liquid epoxy resin that can be poured before curing to form a hard, solid mass.
Epoxy Casting Resin MS 1000 has a slightly yellow-ish colour but is otherwise mainly transparent. For applications where aesthetics matter (such as making moulds), you can change the appearance of this epoxy by adding fillers. In this way, you will have a truly custom made epoxy part with the exact appearance you are looking for.
In addition to making moulds, this epoxy is often used for filling holes, coating surfaces or large area bonding. In these applications, adhesion is a must. Epoxy Casting Resin will bond well to most types of materials and surfaces including wood, metal, epoxy sheet, fibreglass, stone, concrete, glass, ceramics and most types of plastics.
A list of just some of the more common applications we've seen for Epoxy Casting Resin MS 1000 is provided below. This high quality, versatile and reliable epoxy is available now in 1kg kits. For more information on all its capabilities and how to use it, please do have a look at our technical data sheet on our Epoxy Casting Resin MS 1000 or, if you'd prefer, do not hesitate to contact us. We'll be happy to help.
Applications for Epoxy Casting Resin MS 1000
Making moulded epoxy parts and components.
Surface coating.
Filling gaps and voids around support posts.
Filling gaps in electrical insulation and in electrical components.
Covering gaps.
In all kinds of model making applications.
Making repairs to tools and components.
General repairs to boats and watercraft.
General repairs and gap filling for workshops and facilities.