On behalf of all of us at Swift Supplies, I am pleased to introduce Weicon GMK 2410 Rubber Metal Contact Adhesive to our range. In this post, I'll explain exactly what this high strength adhesive is, where it can be used and how to use it. I'll also run through some of the technical speculations for this high-quality product.
Before I get started though, a quick word of warning; GMK 2410 is designed for larger surface bonding. If you're looking for something to bond smaller parts (such as for model making or gluing O rings) or for gap filling, this probably isn't for you. For everyone else, let's get started.
What Is GMK 2410 Rubber Metal Contact Adhesive?
GMK 2410 is an industrial-grade contact adhesive designed specifically for bonding rubber to metal and rubber to rubber. It is used to create high-strength bonds and is especially useful for sticking larger surfaces to one another.
This adhesive is manufactured by Weicon in Germany and is based on polychloroprene rubber. Contact adhesion time for GMK 2410 is approximately 10 minutes and, once it has set, it will withstand temperatures between -40°C and +80°C (as well as short-term spikes up to 100°C).
Importantly, bonds created with GMK 2410 exhibit permanent elasticity. This allows the adhesive to remain strong and to tolerate thermal expansion and shrinkage that will be expected when bonding to metal surfaces.

Where to Use GMK 2410
The name probably gives a bit away; GMK 2410 is ideal for bonding rubber to metal and rubber to rubber. That said, this adhesive is versatile enough to also be perfect for many other surface bonding jobs.
Example Applications for GMK 2410
Bonding rubber pads and sheet to metal wall structures, posts and piping.
Sticking rubberised sponge and foam to metal supports
Laminating different thicknesses of rubber sheet and sponge
Attaching acoustic insulation to walls, posts and panels
Bonding rubber extrusions, door seals and profiles to vehicles, boats and surfaces
Gluing down rubber sheet to metal trays and plates
Laminating felt to form new thicknesses or bonding felt to metal
Gluing rubber to wood
Attaching thermal insulation to metal sheets and wall panels (such as garden sheds)
Compatible Materials
Solid Neoprene Rubber (aka: CR, Chloroprene)
Natural Rubber Insertion
Nitrile Rubber (aka: NBR or Nitrile-Butadiene Rubber)
EPDM Rubber
Steel
Copper
Brass
Bronze
Aluminium
Nickel
Zinc
Stainless Steel
Wood
Felt
Insulation Materials
Textiles
Rubber Sponge and Foam (such as our Neoprene Sponge Sheet)
Many types of plastic (with the exception of those listed below)
Incompatible Materials
Polyethylene
PTFE (Teflon)
Polypropylene
PVC Foam
PVC Leather
Silicone Rubber
Stone (porosity poses a problem)
Glass
Ceramic
These are just a sampling of the materials that GMK 2410 can be used to bond. This adhesive continues to be used in a variety of industries all around the world and every day, a new application for it seems to be found.
The Adhesive Finder and the Weicon App.
If you do a bit of bonding, or just want a tool that will help you find the very best adhesive for a particular job, Weicon's adhesive finder and mobile apps are a great option. The adhesive finder is a easy to use web page that lets you choose the types of materials you need to bond, specify (or not) a few different environmental factors (like temperature, type of bond and whether or not it needs to be vibration resistant) before it provides a list of reccomened adhesives.
The Weicon App (available for Android and iOS for free) takes it one step further. If offers all of the functionality of the adhesive finder web app while also including a full product list complete with technical and safety data as well as a large number of product videos. Both are great resources that we can vouch for because we use them ourselves.
How To Use GMK 2410 Rubber Metal Contact Adhesive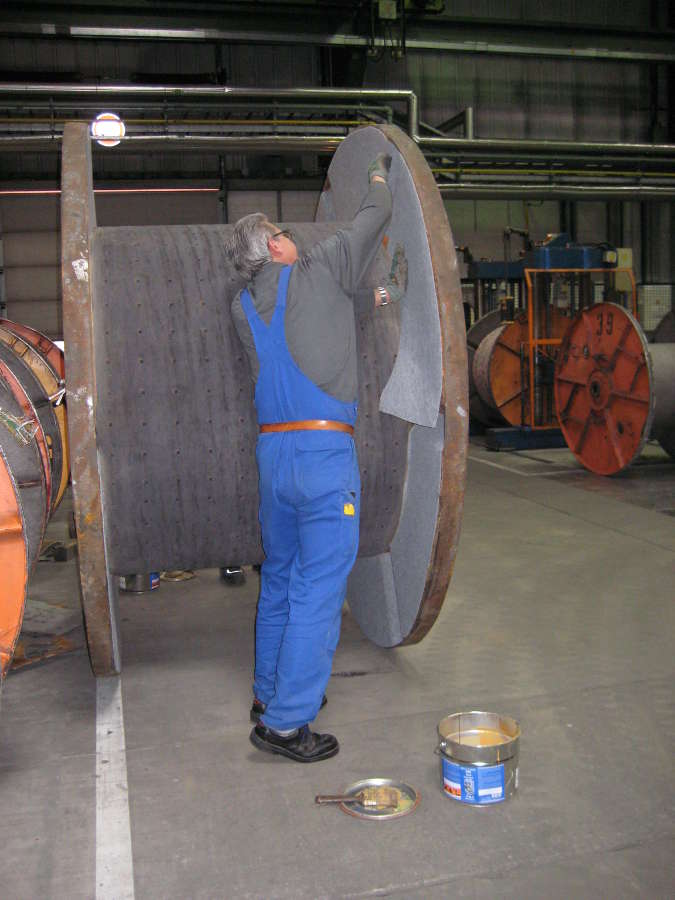 Applying GMK 2410 is simple. Clean the surfaces, stir the adhesive (is using one of the tins rather than a squeeze tube) and apply in a thin, even layer to both bonding surfaces with a brush or spatula.
You should then let the adhesive dry for 5-10 minutes until the adhesive is dry but still a bit tacky. Once this occurs, immediately press the two surfaces together and hold with a good amount of pressure for a short amount of time.
Far more detailed instructions are included on the technical data sheet for our GMK 2410 and on the packaging. We really do suggest familiarising yourself with the full instructions prior to use. This is especially true if bonding highly absorbent surfaces (like low density felt) as these can often require a second layer of adhesive before the parts are joined.
By the way, if you're looking for the ideal cleaner to prepare the surfaces we really suggest using Weicon Surface Cleaner or Weicon Cleaner S. Both are available in easy to use spray cans.
The video below also shows GMK 2410 being applied and details most of the steps required.
Technical Specifications for GMK 2410 Rubber Metal Contact Adhesive
Below is a table detailing the technical specifications of GMK 2410. These can also be found on the TDS for this adhesive. Additionally, the Safety Data Sheet contains a wealth of technical information and we do suggest familiarising yourself with it prior to use.
| | |
| --- | --- |
| Colour | Yellow(ish) - Brown |
| Basis | Polychloroprene (CR) |
| Viscosity | 2,400 MPa (Approx.) |
| Evaporation Time | 5-10 Minutes |
| Contact Adhesion Time | 10 Minutes |
| Final Strength | 24 Hours (Approx.) |
| Continuous Temperature Resistance | -40°C to +80°C |
| Short-Term Temperature Resistance | 100°C |
| Processing Temperature | +15°C to +35°C |
| Storage Stability | 12 Months (Minimum, Unopened) |
| Consumption | 250 - 350 g/m³ (Approx.) |
Median Tensile Shear Strength
(Tested in accordance with DIN 53281-83)

Galvanised Steel to EPDM Rubber
0.16 N/mm²
Galvanised Steel to Galvanised Steel
1.6 N/mm²
Galvanised Steel to SBR Rubber
0.54 N/mm²
Galvanised Steel to NBR Rubber
0.54 N/mm²
I really hope you found this post useful. I'll make sure that we keep updating it as we find more and more uses for GMK 2410 and to answer any questions I may have overlooked. If you do have an application that you can see I've missed, or have any questions whatsoever about this high strength, high quality contact adhesive please do not hesitate to contact us here at Swift Supplies or, alternatively, let us know in the comments. Either way, we'll do everything we can to assist.