When you need to stick things like stencils or posters, one of the main considerations isn't necessarily bond strength, it's a glue that can be removed or repositioned so that you can get things just right.
For these sorts of applications, we have a few different adhesive spray options but one of the best value solutions is definitely our Weicon Adhesive Spray for Detachable Joints.
In this short post we'll explain where it's used and how it works.
Where Can This Removable Adhesive Spray Be Used?
This repositionable spray adhesive is typically used for securing light weight materials either temporarily or permanently (more on this later). Common applications we see include...
Sticking down templates before cutting.
Putting up posters.
Photo mounting.
Paper & cardboard craft and decoration.
Attaching lightweight wood materials to surfaces.
Sticking foils.
Upholstery work.
Model making.
This universal style spray adhesive is compatible with most material types; including...
Paper.
Cardboard.
Wood.
Cork.
Textiles.
Most Plastics.
Most Foams.
Most Rubbers.
Leather.
Imitation Leather.
Felt.
How Do You Use It?
There's two different ways depending on what you are trying to achieve.
If you want to be able to detach / remove the item you're sticking, spray just one of the bonding surfaces with a good thin layer.
If you are looking for stronger, permanent adhesion spray both surfaces with a thicker layer.
No matter which you choose, there are some additional steps to be follow.
Surface Pre-Treatment. The surfaces you are bonding should be clean and dry. This is always important and a necessary first step.

Shake the can.

Spray onto the from a distance of 15cm to 30cm.

Allow to react. The amount of time will usually be around 10 minutes but can be between 5 and 15 depending on the conditions and material types. What you want to wait for is the sprayed on glue to no longer be stringy.

Position the parts with good pressure.
Instructions are included on the label and more information is available on the SDS should it be required.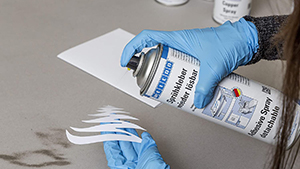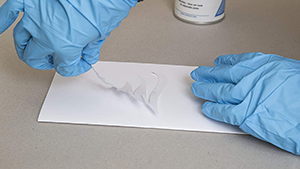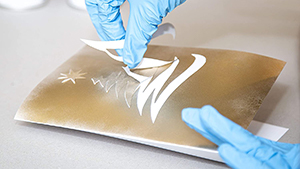 Where to Buy.
This German-Engineered Repositionable Spray Adhesive is available from our online store. The button below will take you to the product page where you can view pricing, specifications and more.