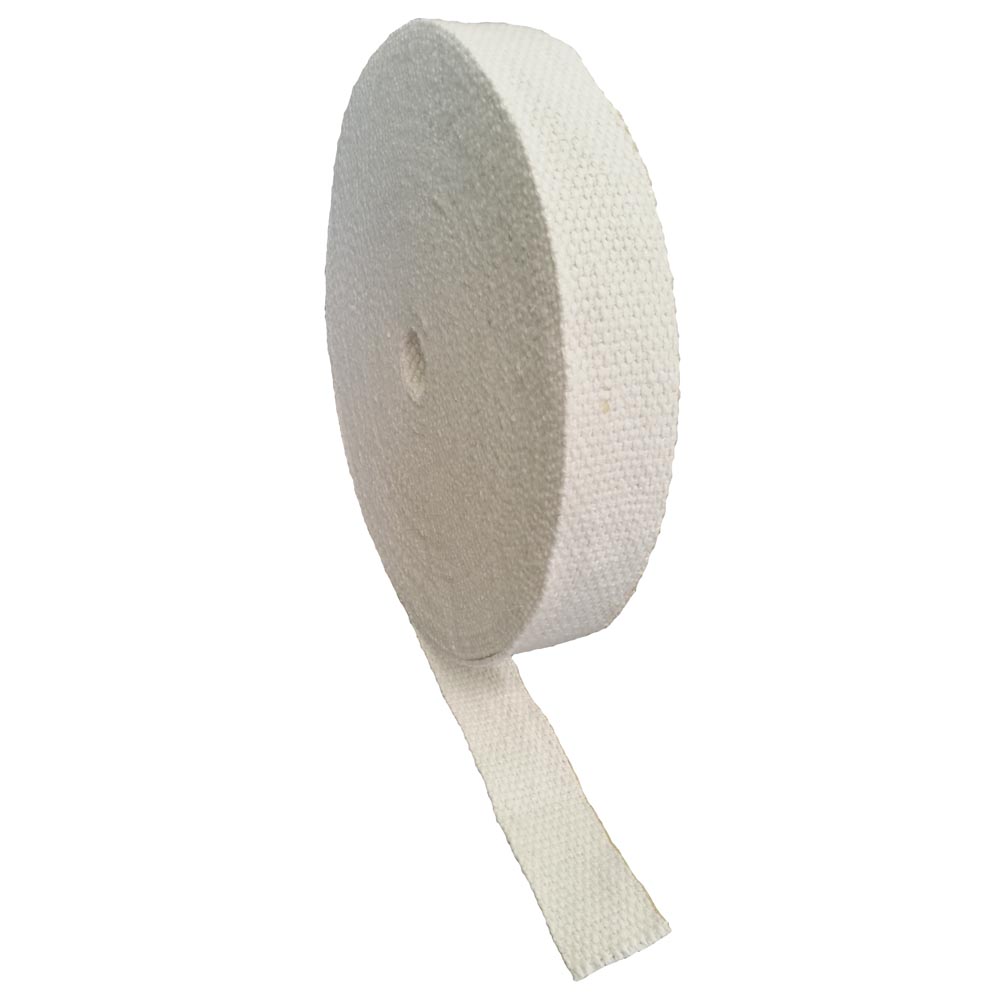 To meet some pretty demanding requirements for a woven heat insulation textile capable of performing in very high temperatures, we have introduced our Ceramic Insulation Tapes.
Manufactured from Ceramic Fibres, these tapes can provide thermal insulation in areas where temperatures reach as high as 1,200°C.
In this short post, we provide a brief overview of where these insulation tapes are used and detail some of their features.
Physical Properties of Ceramic Insulation Tapes.
For the vast majority of applications where a woven insulating tape would be used, Ceramic Insulation Tapes are overkill. Once temperatures exceed 1,000°C however, these are one of the few viable solutions as the table below illustrates…
Average Max. Continuous Temperature Ratings of Different Woven Insulation Tapes.
| Woven Tape Base Fibre | Avg. Max. Continuous Operating Temperature |
| --- | --- |
| Fibreglass, With Silicone Adhesive | ~200°C |
| Fibreglass, Silicone Coated | ~250°C |
| Aramid | ~340°C |
| Fibreglass (Not Coated) | ~550°C |
| Basalt | ~649°C |
| Silica | ~980°C |
| Ceramic (Wire Reinforced) | ~1,200°C |
As you can see, after Silica textiles, there's not much that comes close to the max. operating temperature offered by our Ceramic Tapes.
Part of the reason they can go so high is how they are made. Ceramic fibre, by itself, is an excellent heat insulator. It is not, however, very strong.
A lack of physical strength can be an issue with a woven tape as it makes it harder to apply and limits the number of applications it can be used in. This is why our Woven Ceramic Insulation Tapes are made with wire (Nickel Chrome) reinforcement.
This ensures they have excellent physical strength without limiting their thermal properties.
It does, however, rule them out as any kind of electrical insulation. The Ceramic Fibre is ok, the nickel-chrome is definitely not and will conduct current.
These very high temperature tapes also have excellent chemical resistance and the ability to withstand degradation from UV and weathering.
Uses for Ceramic Insulation Tapes.
Given their primary benefit is the ability to insulate in very high temperature environments, it'd be no surprise that these tapes are only used in demanding industrial applications.
Some of the uses for them that we see include…
Protecting and Insulating Cables, Hoses and Wiring.
Lagging and Pipe Insulation.
Very High Heat Exhaust Wraps.
Door Seals for Furnaces and High Temp Ovens.
Making High Temperature Woven Gaskets.
Reinforcement for Welding Blankets, Equipment Covers, Expansion Joints and Insulation Barriers used in High Heat Applications.
These tapes are primarily used by the metal working, smelting, mining, power generation and heavy engineering sectors though they have found limited applications in the transport, marine and chemical industries too.
Our Range of Woven Ceramic Tapes and Other Thermal Insulation Tapes.
Our online store has our Ceramic Insulation Tapes (Nickel Reinforced) available in three sizes. All are 3mm (1/8") Thick and sold per 30 Metre Roll. Links to each are included below.
Of course, our Ceramic Tapes are just one type in our large range of thermal insulation tapes. We also stock fibreglass-based tapes in a huge range of styles (standard exhaust wrap, drop weave ladder, silicone coated), aramid tape (Kevlar), basalt tape and our high quality Refrasil Silica Tape.
Some are available in full rolls or shorter lengths. Some also by the metre. You can browse our full range of heat insulation tapes here.
Need Assistance?
If you are having issues finding the tape you need or want some advice on which one might be best for your application, please do contact us. We'll do what we can to help.