Key Features
High strength retaining adhesive for larger cylindrical and close fitting assemblies
High viscosity for accurate application and no running
DVGW approved for gas lines, KTW approved for potable water, BAM approved for oxygen service
Description
Weiconlock AN 306-20 Retaining Compound for Cylindrical Assemblies is a premium quality adhesive used for bonding and sealing close fitting, non-threaded metal connections. It cures to form high strength bonds that permanently lock in place ball roller and slide bearings as well as liners, keys, splines, bolts and bushes.
A truly versatile adhesive, Weiconlock AN 306-20 has been approved for use with sealing potable water applications (by KTW), sealing in oxygen service (by BAM) and for sealing gas lines (by DVGW).
Weiconlock AN 306-20 Retaining Compound for Cylindrical Assemblies has a high viscosity which makes it easy to accurately apply to larger diameter or vertically aligned components. It also has excellent temperature resistance and will withstand exposure to environments up to 200°C.
Weiconlock AN 306-20 Retaining Compound for Cylindrical Assemblies is green in colour and non-marking.
Applications
Bonding, fixing and retaining cylindrical assemblies and close fitting metal parts
Ball, roller and slide bearing locking and bonding
Bonding liners and keys
Spline locking
Sealing gas lines, pipes and connections
Permanent bonding, sealing and locking of close fitting pipe connections
Sealing oxygen lines and fittings
(SWP000084)
What do I have to do to prepare the surfaces?
Clean and dry as much as possible. Weiconlock grades will work on slightly oily surfaces but adhesion will be improved on parts that have been cleaned and degreased.
How long does it take to cure?
Full cure is expected to take about 24 hours at room temperature. Handling strength is achieved far faster. This will only take about 20-40 minutes.
What's its pot life?
Virtually unlimited. As an anaerobic adhesive, AN 306-20 only begins to cure when it is in contact with metal and deprived of air. That means as long as the bottle is open, no curing will occur.
It also means that great care should be taken to ensure that you don't accidently allow any metal shards or filings to find their way into the bottle. Once the lid is back on, even the smallest amount of metal will cause the whole bottle to set.
How do I store it?
None of the Weiconlock grades needs to be kept in any kind of special storage. Just try and keep them somewhere that doesn't get direct sunlight and away from heat sources. Room temperature is fine.
What is a cylindrical assembly?
Great question. When we (and Weicon) say cylindrical assemblies we mean non-threaded, close fitting round metal parts that slot together. Actually, now I write that I feel like I've probably confused you more. Maybe this will work better.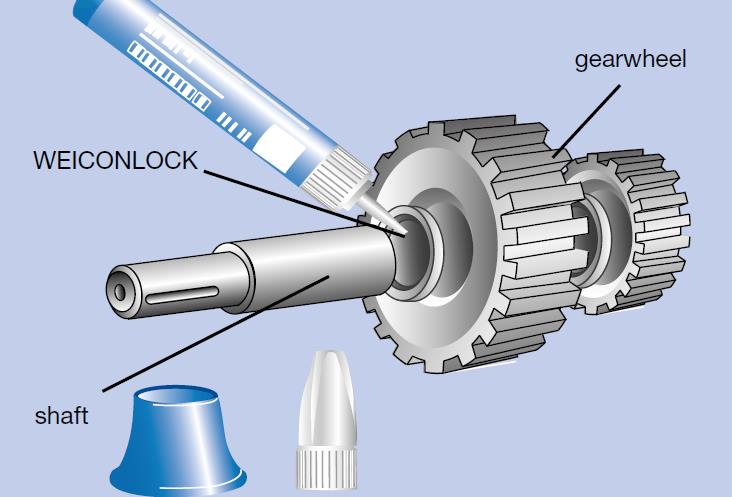 Colour: Green
Cure Strength: High
Viscosity: High (3,000 – 6,000 MPa)
For Threaded Joints Up To: M 56
Gap Filling Capacity: 0.2mm (Max.)
Handling Strength: 20-40 Minutes
Final Strength: 24 Hours (approx.)
Shear Strength: 15-25 N/mm²
Temperature Resistance: -60°C to +200°C
Food: No
Potable Water: Yes (KTW Approved)
Gas Approved: Yes (DVGW)
Oxygen Sealing Approved: Yes (BAM)
| | |
| --- | --- |
| SKU | SWP000084 |
| Brand | Weicon |
Be The First To Review This Product!
Help other Swift Supplies Online Pty Ltd users shop smarter by writing reviews for products you have purchased.
---
You May Also Like
---
Others Also Bought