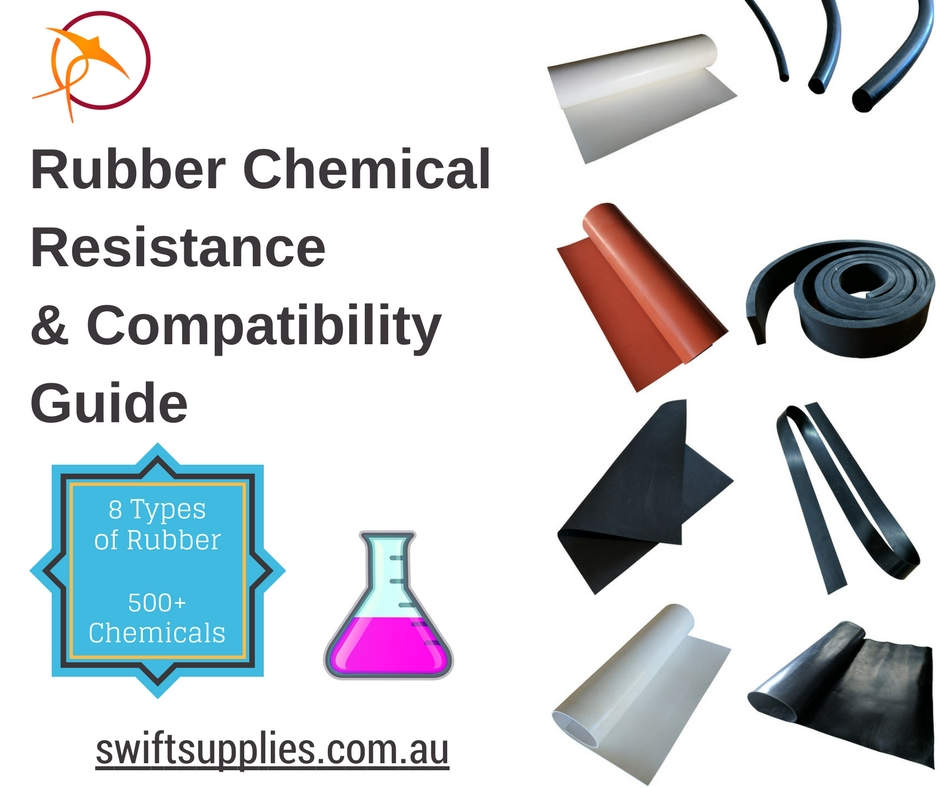 One of the most frequently asked questions we hear is about which rubber to use for sealing a particular type of fluid. Queries like "is Nitrile ok to use for sealing a petrol tank" or "can I use Silicone as a gasket for a LNG line" are quite common. With so many different types of rubber out there, and an almost infinite number of possible mediums, it's pretty understandable.
We're always happy to help with these questions but part of our mission here at Swift is to provide as much information as possible. That's why we're very happy to announce the publication of our new rubber chemical resistance and compatibility guide.
We've worked to make this guide as comprehensive as possible. Right now, it includes information on over 500 different types of chemicals, liquids and media and covers 8 popular styles of rubber used for sealing and gaskets (expanded on below).
Of course, a rubbers compatibility with a particular chemical is only one of the factors contributes to seal performance. It's very important, but it is not everything. Amongst other things (like how the gasket is to be installed) you should also consider…
The Grade of the Elastomer.
There are many, many different rubber manufactuers. All use slightly different formulas and variable amounts of filler compounds. The result is that Neoprene sheet from one manufactuer may, in fact, be quite different to Neoprene sheet from another. Variable levels of purity will result in different levels of chemical resistance and seal performance.
The Temperature of Service.
Elevated temperatures increase the affect that a chemical or media will have on an elastomer. The degree of the increase will vary depending on the particular type of rubber and the chemical. As a result, a rubber that might seal a particular chemical perfectly well at room temperature could fail if subjected to higher temperature conditions.
The Durometer / Hardness of the Rubber.
Generally speaking, the harder the rubber material, the greater its chemical resistance.
Conditions of Service.
A rubber that swells when used in conjunction with a particular fluid may be perfectly fine for sealing in a static application yet fail in a dynamic sealing environment.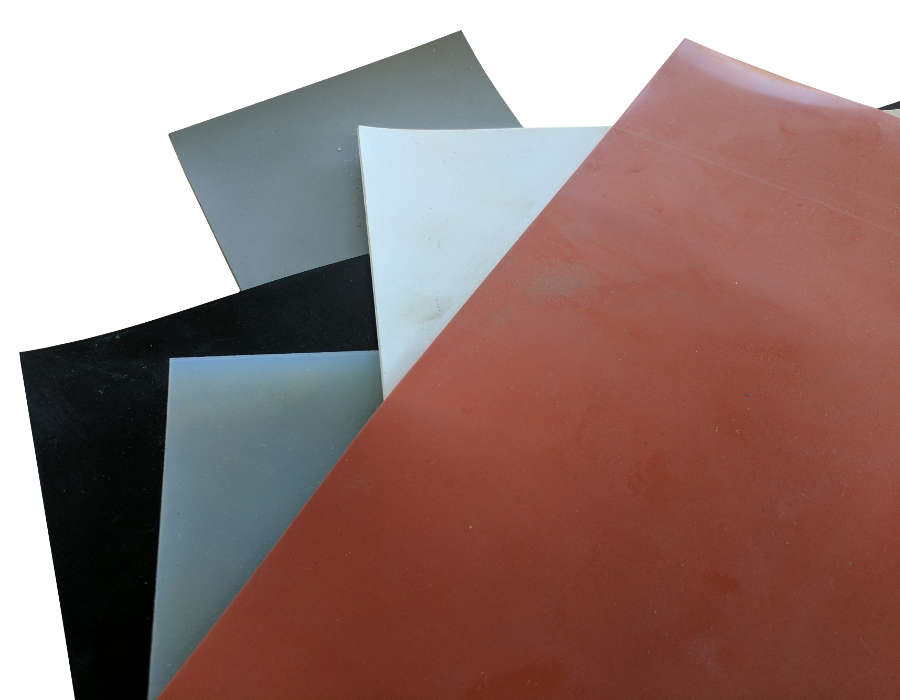 Because of these limitations and the effect these additional factors can have on sealing performance, it is always best to test a sealing material in the actual sealing environment.
Even with all this information, we'll be the first to admit it doesn't cover everything. We'll keep updating the guide as we get new information on different chemicals or additional types of rubber are requested. In the meantime, if you need assistance finding the right rubber for a particular sealing job, or want to confirm your conclusions, please don't hesitate to contact us. We'll be happy to help in any way we can.
You can find our rubber chemical resistance guide here.
Different Types of Rubber Covered in our Chemical Resistance Guide
Natural Insertion Rubber
Other Names
Natural Rubber (also Natural Rubber Insertion, Insertion Rubber or NRI)
Represented In The Table As...
NR / IR
ASTM Designation
NR / IR
Chemical Name
Polyisoprene
Typically Resistant To...
Most moderate chemicals (wet or dry), organic acids, alcohols, ketones, aldehydes.
Typically Attached By...
Ozone, strong acids, fats, oils, greases, most hydrocarbons.
Available in Strip or Sheet (custom fabricated parts also available upon request)
Styrene Butadiene Rubber
Other Names
Butadiene Rubber, BUNA-S, SBR
Represented In The Table As...
SBR
ASTM Designation
SBR
Chemical Name
Styrene Butadiene
Typically Resistant To...
Most moderate chemicals (wet or dry), organic acids, alcohols, ketones, aldehydes.
Typically Attached By...
Ozone, strong acids, fats, oils, greases, most hydrocarbons.
Coming Soon in Sheet to Swift Supplies
(SBR does serve as the binding rubber in our TS1521 Industrial Grade Cork Sheet)
Butyl Rubber
Other Names
N/A
Represented In The Table As...
IIR
ASTM Designation
IIR
Chemical Name
Isobutyllene Isoprene
Typically Resistant To...
Animal and vegetable fats, oils, greases, strong and oxidizing chemicals.
Typically Attached By...
Petroleum solvents, coal tar solvents, aromatic hydrocarbons.
Coming Soon to Swift Supplies
EPDM Rubber
Other Names
N/A
Represented In The Table As...
EPDM / EPM
ASTM Designation
EPDM, EPM
Chemical Name
Ethylene Propylen Copolymer
Typically Resistant To...
Animal and vegetable oils, ozone, strong and oxidising chemicals.
Typically Attached By...
Mineral oils and solvents, aromatic hydrocarbons.

Coming Soon to Swift Supplies
Nitrile Rubber
Other Names
NBR, NBR Rubber, BUNA-N
Represented In The Table As...
NBR
ASTM Designation
NBR
Chemical Name
Acrylonitrile Butadiene
Typically Resistant To...
Many hydrocarbons, fats, oils, greases, hydraulic fluids, chemicals.
Typically Attached By...
Ozone (except PVC blends), ketones, esters, aldehydes, chlorinated and nitro hydrocarbons.
Available in Sheet (black or white) or O Ring Cord (custom fabricated parts also available upon request)
Nitrile Rubber also serves as the binder in our TD1049 / ACN60 Premium Cork Sheet
Neoprene Rubber
Other Names
Neo Rubber, Chloroprene Rubber
Represented In The Table As...
CR
ASTM Designation
CR
Chemical Name
Chloroprene
Typically Resistant To...
Moderate chemials and acids, ozone, oils, fats, greases, many oils and solvents.
Typically Attached By...
Strong oxidising acids, esters, ketones, chlorinated aromatic and nitro hydrocarbons.
Available in Strip or Sheet (custom fabricated parts also available upon request)
Neoprene Rubber also serves as the binder in our NP50 Cork Sheet
Silicone Rubber
Other Names
Silicone, Sil Rubber
Represented In The Table As...
SI
ASTM Designation
VMQ
Chemical Name
Polydimethyl-Siloxane
Typically Resistant To...
Moderate or oxidising chemicals, ozone, concentrated sodium hydroxide.
Typically Attached By...
Many solvents, oils, concentrated acids, dilute sodium hydroxide.
Available in Red or White Sheet (custom fabricated parts also available upon request)
Viton Rubber
Other Names
Viton, Flurodyn, Fluoro Carbon, FKM Rubber
Represented In The Table As...
FKM
ASTM Designation
FKM
Chemical Name
Fluorinated Hydrocarbon
Typically Resistant To...
All aliphatic, aromatic and halgenated hydrocarbons, acids, animal and vegetable oils.
Typically Attached By...
Ketones, low mole weight, ester and nitro containing compounds.
Coming Soon to Swift Supplies