One of the applications we hear all the time is the need for an Adhesive Sealant that is able to work on wet areas. It makes sense when you think about it. Just the other day we had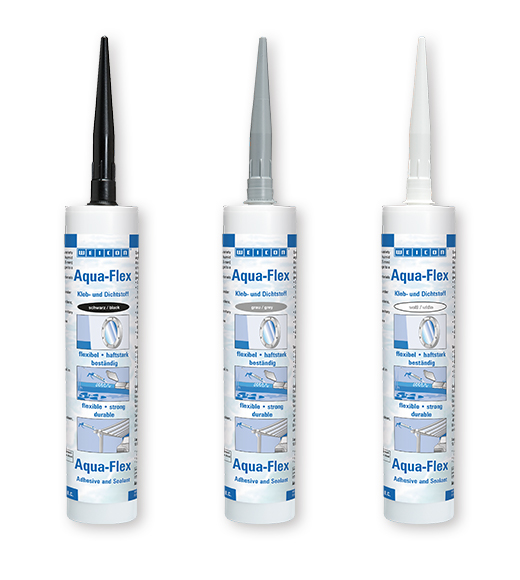 someone who had a leak on their patio guttering somewhere. Trouble is, the leak was only obvious when it rained and when it was raining you couldn't seal it because you couldn't get it dry.
For such situations, we would like to introduce Aqua-Flex Underwater Adhesive Sealant.
As this video demonstrates, Aqua-Flex has no problems being applied and sticking to wet surfaces. In fact, it will even cure underwater.
Though it is relatively new to Australia, Aqua-Flex Underwater Adhesive Sealant has been used around the world for many years and is manufactured by a company in Germany called Weicon. We have this adhesive in stock now in 3 colours (white, black and grey) and, like all our products, can ship anywhere in the country. As the video hints at, you don't need any special equipment to work with Aqua-Flex, a standard caulking gun will do the job.
This high quality adhesive sealant creates strong bonds and can be used indoors or outdoors thanks to its excellent UV resistance. It is not a silicone and contains zero solvents. It's also really versatile and bonds well to metals, ceramics, wood, glass, stone and most plastics.
Because of this versatility and its ability to be used in wet or damp areas, the list of potential applications for Aqua-Flex is rather long. Just some of them are listed below…
Sealing or bonding plastic foils or PVC sheet (such as pond liners)
Sealing and bonding ventilation and air conditioning systems
A permanently elastic adhesive for high humidity environments
Sealing tubes, pipes and tanks
Bonding and sealing wet, damp or submerged surfaces in marine environments
Repairs to water tanks, aquariums or containers
Roof and gutter sealing and bonding
Sealing and bonding in kitchens, bathrooms or laundries where completely drying the surface is impractical
Gardening and landscaping
You'll find Weicon Aqua-Flex Underwater Adhesive Sealant listed on our website along with a lot more information (including full technical data). Of course, if you do have any questions about Aqua-Flex or would like to know if it will work for your application don't hesitate to contact us. We'd love to be able to assist.