The idea of using a thread seal cord instead of the traditional tape is probably a little bit confronting. You're used to the tape right? Why change? Today, I'm going to explain why I did.
Really it all boils down to a collection of reasons. Some technical and some more of a manifestation of my laziness and endless quest to find the easiest way to do a job than anything else. I'll explore each in turn but first, a quick explanation of what I mean by Thread Seal Tape.
What is Thread Seal Tape?
Thread Seal Tape is also known as PTFE Tape, Plumbers Tape or Teflon Tape (the last of these is incorrect as the trademark holders of the Teflon brand name no longer manufacture a thread seal tape).
It is made from polytetrafluoroethylene (PTFE) film and is used for sealing pipe threads, lubricating threaded connections and preventing seizing during disassembly. Thread seal tape is usually supplied on a plastic spool (like the one shown) and is typically very thin (usually about 0.1mm) and supplied in rolls of about 10 metres in length (though both thickness and roll length can vary significantly between brands, styles and vendors).
Depending on your application, you may require a specific kind of thread seal tape. Again, depending on the manufacturer they may (or may not) follow what has become somewhat of a standard colour coding practice for thread seal tape used to denote its suitability for various thread sizes and mediums. This system is…
White – used on NPT* Threads up to 3/8" Diameter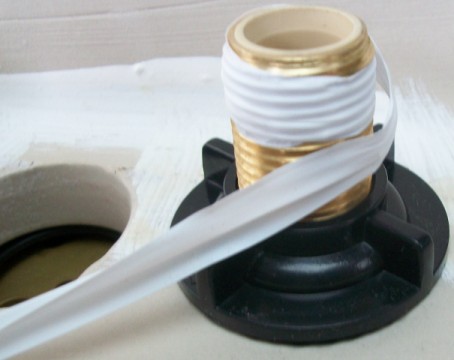 Yellow – used on NPT* Threads 1/2" to 2" Diameter, often labelled "gas tape"
Pink – used on NPT* Threads 1/2" to 2" Diameter, safe for propane and other hydrocarbon fuels
Green – oil-free PTFE used on oxygen lines and some specific medical gases
Grey – contains nickel, anti-seizing, anti-galling and anti-corrosion, used for stainless pipes
Copper – contains copper granules and is certified as a thread lubricant but not a sealer
*(National Pipe Thread Taper, a US standard)
Source: https://en.wikipedia.org/wiki/Thread_seal_tape
History, Evolution and Pseudonyms
Plumbers Tape, Thread Seal Tape, PTFE Tape, Teflon Tape. This stuff does go by a lot of names. Regardless, it is generally accepted that Thread Seal Tape can trace its lineage all the way back to 1938 as this was the year that Dr. Roy Plunkett (a DuPont scientist) discovered polytetrafluoroethylene (PTFE) and named it with typical scientific flair.
In 1946, DuPont registers the trademark Teflon™ for PTFE and in the late 1940s begins marketing it on a small scale for specific industrial applications. Fast forward to 1969 and other companies began using DuPont PTFE fine powder to manufacture what would now be recognised as PTFE Thread Seal Tape.
Over the decades since, other companies started making PTFE fine powder and the companies making plumbers tape began sourcing the base PTFE from many different manufacturers. The result is the situation we have today, many different brands making many different grades, all with slight variances in technical performance and suitability for particular applications.
It should also be noted that the use of the name Teflon Tape is actually incorrect. Chemours, owners of the Teflon trademark, no longer manufacture any thread seal tape and the company has launched a campaign against the use of its trademark in naming PTFE Thread Seal Tape (for more information see https://www.chemours.com/Teflon_Industrial/en_US/history_plumber_tape.html).
Reasons to Make the Change to Thread Sealing Cord
If it ain't broke, why fix it right? Given its long history and continued prevalence in toolboxes everywhere, you could definitely make a case that thread seal tape continues to do the job. That doesn't mean there aren't alternatives out there though and I think I've found one that stacks up pretty well against this tape.
Though I'm not for a moment saying thread seal tape doesn't work. It does. That said, I have found a few advantages in using the cord. I'll run through them each in turn.
Thread Sealing Cord Is Easy to Use
Once you get past the idea of using a new product (let's face it, first time with anything is a little daunting) thread seal cord is actually really, really easy to use. Unlike thread seal tape, there's no need to try and lay it flat without creases. Just wrap it around and around the thread randomly overlaying the strands. It really is that simple. Start wrapping at the beginning of the thread and wrap forwards (in the direction of the thread while overlapping randomly).
As far as guidelines go, these are pretty simple too.
12 to 18 wraps for threads up to about 12mm (1/2") Diameter
&
16 to 24 wraps for threads up to about 38mm (1 & 1/2") Diameter
The lower end of the range is for finer threads while the higher end is more suitable for coarse or larger spaced threads.
Once that's done, apply 2-3 drops of the included lubricant to the thread and spread it gently (for more info on the lubricant see below).
PTFE Thread Sealing Cord is 100% PTFE
I really like this feature as it leads to some excellent versatility in the product. The fact that this cord is made entirely of PTFE means that there's no carrier involved which can separate from the PTFE sealing film if not installed correctly. It also allows the cord to be so simple to apply, yet highly reliable, as it will naturally fill and seal any intermediate space in the threaded connection. It does this as the parts are screwed together, where it naturally adjusts to fill any space left.
Other benefits associated with a pure PTFE construction have to do with temperature resistance, chemical resistance and application suitability. As discussed in the next point, oftentimes you have to use a different thread seal tape depending on your application. Whereas with the cord, it's much closer to one size fits all.
There's also the small matters of chemical and temperature resistance. PTFE Thread Sealing Cord DF 175 withstands temperatures between -200°C and +240°C and is non-flammable. It also resists attack from even the most aggressive solvents, caustic agents and acids.
I'll admit, personally I've never had to seal a threaded connection at over 200°C. That said, I like the fact that the thread sealing agent I have is capable of handling all these things at once, on the off-chance it is required.
Range of Approvals = Versatility
One of the reasons there's so many types of thread seal tape out there is that you need to use different grades for different jobs. Sealing gas? Gas thread seal. Water tank? Standard. Oxygen? Another grade again. Weicon has been good enough to not only make a thread sealing cord that is pure PTFE, but also to go and get it approved by a range of different accreditation bodies for use in different applications.
At time of writing, these included WRAS and TZW (British and German (respectively) accreditations for potable water), DVGW (certified for use in gas applications) and BAM (certified for oxygen sealing).
Weicon PTFE Thread Sealing Cord DF175 has also been tested to ASTM F423 for steam and cold water, to KIWA Gastec Qa (NL) and is a UL (Underwriters Laboratories) listed sealing material for pipelines with petrol, petroleum, propane, butane, naphtha and gas (<3000 psig).
One small point to note, if using PTFE Thread Sealing Cord DF75 with oxygen, you should not use the lubricant.
P.S. That's got to be one of my favourite disclaimers ever. If using it for this highly critical application, do less.
Longer roll = less waste
One thing that drives me nuts is having 1 metre left on a roll for a 1.5 metre job. Since each roll of Weicon PTFE Thread Sealing Cord DF 175 is 175 Metres long, this happens less than it does with thread seal tape which is typically supplied in 10 metre roll packs. It's a small thing, but like many other things on this list, it adds up.
Allows for Unscrewing Up to 45°
For me, this is just a piece of mind factor, though for others it may be even more important. Weicon PTFE Thread Sealing Cord allows a slight unscrewing of the connection without compromising the seal. This has been tested up to 45° and can be a real benefit if the threads are a little tricky to align, as it allows you some wiggle room as you're connecting them without having to start from scratch.
The lubricant isn't just included; it's got its own secret chamber
So "Secret Chamber" may be a touch on the hyperbolic side but it's still pretty cool. The base of each container of PTFE Thread Sealing Cord DF175 unscrews to reveal a roll on lubricant applicator. Two to three drops of this lubricant should be applied to the surface area of the thread sealing cord once it's been applied to the thread (unless you're sealing liquid oxygen, no lubricant should be used in this application).
I'm an individual
This one may have a little less to do with the product than the others but I really do like being one of those people who do things just a little bit differently. Thread seal tape is everywhere, I'm pretty sure you can buy it in Coles. I want to be the guy using something a little different.
Works with plastic and metal threads
Once again, I like products that have multiple uses. PTFE Thread Sealing Cord can be used on both plastic and metal threads of almost all sizes and thread configuration, which makes it a really useful addition to a toolbox.
A cutter is part of the pack
Keen eyes may have already noticed it. That little metal part at the top of the container in the photo of our Thread Sealing Cord pack is actually a really handy little cutting implement. It's perfectly safe while handling, but it does give you an easy way to cut the cord once you're done applying it to the thread. Another little thing that I know I'd miss if it wasn't there.
It works
Kind of goes without saying, but I wanted to say it anyway. PTFE Thread Sealing Cord actually works. That's a pretty big part of the reason I use it.
Economy
One roll of Weicon PTFE Thread Sealing Cord DF175 replaces up to 20 rolls of PTFE Thread Seal Tape (12mm x 0.1mm x 12 Metres). When you consider that, along with the fact you'll have less useless roll ends (thanks to the longer roll) and have the one product that can handle standard, potable, gas and oxygen sealing; it starts to make a fair bit of sense from an economic point of view.
Conclusion: Thread Sealing Cord offers some real advantages over Thread Sealing Tape
Any of the above points by themselves may not seem like a big deal. But when they're looked at as a whole, the result is pretty compelling; Thread Sealing Cord really does provide benefits when compared with conventional thread sealing tapes.
Of course, we're open to accusations of bias as we sell a Thread Sealing Cord so it's in our best interest to promote it. In a sense, guilty; to a point. We can honestly say we've used both and that we believe the reasons we've given for considering a cord are completely true. If anything, the fact we stock thread seal cord made us interested to try it, but I can tell you honestly I wouldn't keep using it if it didn't offer some advantages.
Hopefully you'll be willing to give it a go as well. If you are, you can find our Weicon Thread Sealing Cord DF175 here.