Bond and secure bushings, bearings and cylindrical parts onto shafts or into housings. These high strength glues have a range of applications. In this guide we cover how they work, things to consider when choosing a grade and some of the benefits they offer.
What Are Retaining Compounds.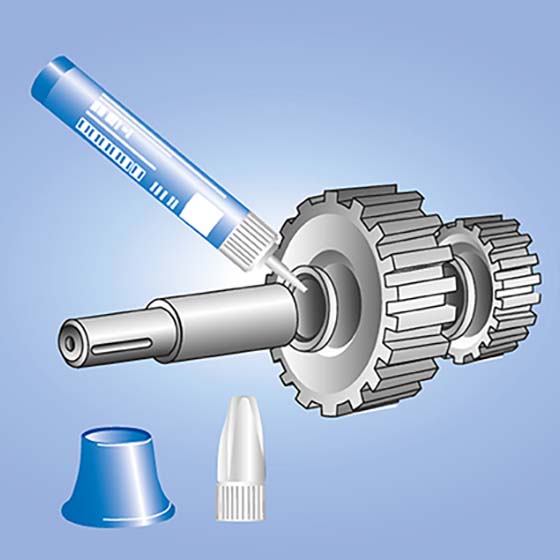 In short, a type of anaerobic adhesive. These glues are designed for making very high strength metal to metal connections between precision fitted parts.
They cure without the presence of air to form a strong bond that allows the transmission of high loads and they withstand vibration and variable environmental conditions. In a typical press fit assembly, metal to metal contact between the components often amounts to less than half of the entire joint surface area. Using Retaining Compounds in this situation effectively seals the joints, eliminates the micro movements that can occur and thus prevents component damage
Retaining Compounds are most commonly used for securing bearings, shafts and cylinder liners and are a common product in the automotive, heavy machinery and electric motor industries. That said, their utility means they have a potential use in any industry where high strength, metal-to-metal adhesion is required between close fitting surfaces.
Retaining Compounds are made by a number of different manufacturers around the world, most of whom offer several types. They differ by many factors; some of the key ones include strength, viscosity, temperature resistance, max gap fill capacity and certifications.
Our range of Retaining Compounds is manufactured by Weicon in Germany. We stock a large range of these high quality glues. Some of the more popular styles are listed below.
---
---
---
---
Advantages of the Weiconlock Range of Retaining Compounds.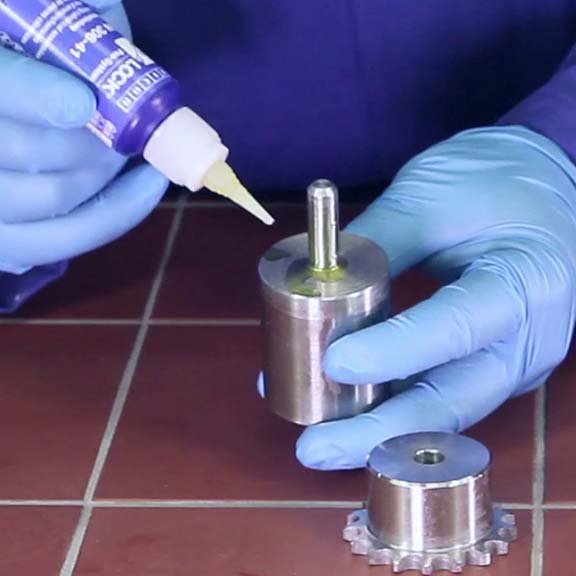 Weiconlock Retaining Compounds are used in over 50 countries and countless industries. These high quality glues offer a number of benefits. Some of these include:
High Shear Strength.
Fast Curing Grades Available.
High Temperature Resistance Grades.
Pen Allows Precision Application and Less Wastage.
Prevention of Corrosion and Fretting.
Even Load Distribution Across the Whole Surface Area.
Less Dependence on Machine Tolerances.
When Used with Interference Fits, Weiconlock Retaining Compounds....
Enable higher load transmission.
Can be used with relaxed fit tolerances.
Reduce the size and weight of an assembly.
Weiconlock Retaining Compounds Also....
Help reduce the potential for vibration at high speeds. This can be caused when pins or key/keyway assemblies lead to an uneven distribution of weight and a lack of balance.
Reduce the machining cost associated with splines and serrations.
Cut production costs for clamp rings, press fits, shrink fits and taper fits. These types of methods can rely on friction alone to enable torque transmission. This necessitates very tight tolerances and surface finishes in machining. The use of Retaining Compounds allows for high torque transmission without the need for precision metal-to-metal contact.
All Anaerobic Adhesives have a few things in common. They are designed to work on metallic surfaces and they cure only in the absence of air.
There's a few different types of these glues. One that many of you may be familiar with are threadlockers. There's also liquid gasket adhesives.
Threadlockers tend to be more geared towards preventing unwanted loosening, leakage and corrosion of fasteners. Liquid Gasket Adhesives are usually thicker and able to handle larger gaps as they are designed to be used across larger surface areas where flange faces may not be as accurately matched.
You can easily browse our full range of Anaerobic Adhesives online via the link below. At time of publication, there was over 25 products listed but you can quickly narrow down the list by filtering by things like Adhesive Strength, Potable Water Approval or Threadlocker Viscosity.
Of course, if you have questions or need assistance in finding the right anaerobic retaining adhesive for your application, please do contact us. We've got years of wide ranging experience with these adhesives and full technical support in Germany for the most complex of requirements.