If you're reading this, you know the challenge. Sealing threaded connections between plastic parts can be problematic.
Most threadlockers (like our Weiconlock AN range) are anaerobic adhesives that will only cure when deprived of air but, also, need to be in contact with metal. Many other types of adhesive (superglues, standard silicones, epoxies) either set too hard or can't be easily applied in thin layers around a thread.
To seal and lock threaded plastic parts and pipes, we are pleased to introduce our new Weiconlock SI 303-31.
Unlike the AN series of Weiconlock, SI 303-31 is silicone based and works well with plastic pipes (though it will work on metal too). The rest of this post provides some more detail on where it can be used, how to use it and some of the other benefits it offers.
Where Can SI 303-31 Plastic Threadlocker and Pipe Sealant Be Used?
Typical applications for this thread locking adhesive include...
Sealing threaded electrical plugs.
Cable gland locking and sealing.
Weatherproofing light fittings.
Sealng and securing plastic pipe fittings used for plumbing installations.
Plastic water pipe sealing and locking.
Irrigation pipe sealing and locking.
Sealing the connections between various hoses and pipes used for ponds and water features.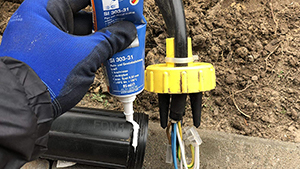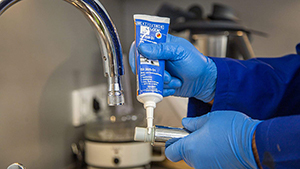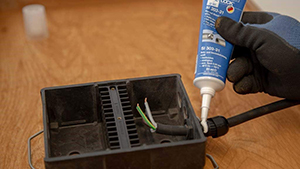 How Do You Use It?
Our SI 303-31 Threadlocker is very easy to use.
Clean off the parts you wil be applying it to (Surface Cleaner is ideal). Then, apply the threadlocker over the thread and connect the parts. A nice, thin, even layer is best but it will be spread as screw the threads together anyway. This threadlocker has a thick, viscous nature which makes application fairly straightforward with less mess.
Weiconlock SI 303-31 will achieve handling strength after about 24 hours and will be fully cured after 3 days depending on the conditions.


Other Benefits / Approvals.
Manufactured in Germany, this high quality threadlocker has a number of benefits. It has excellent weathering, ageing and UV resistance for long lasting seal performance outdoors. It also has good chemical resistance and will withstand most fluids including diluted acids and lyes.
Weiconlock SI 303-31 has high notch and teat strength. Despite this, it is characterised as a low strength threadlocker which will allow you to unscrew the parts fairly easily when required.
SI 303-31 remains permanenly elastic and, once cured, will withstand temperatures between -40°C and +180°C.
It is approved for use with drinking water systems and certified by NSW, LFGB and ISEGA.
Where to Buy.
Weiconlock SI 303-31 Plastic Threadlocker and Pipe Sealant is available from our online store in 85ml Squeeze Tubes. Click the button below to go directly to the product page for more information, bulk pricing and specifications.
---