RTV Silicone Sealants represent an attractive option when you need to replace a gasket. They're often more economical than cut gaskets, and they can be applied easily.
When choosing to use a silicone adhesive for gasketing, making the right product selection is important. This is especially true when you're dealing with elevated temperatures and aggressive media. In this post, we cover some of the things you'll want to consider and present our two best high temp silicone gasket sealants.

Black Seal High Temp Silicone Sealant.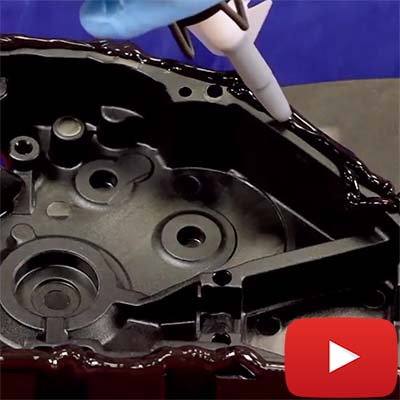 Black Seal is perfect for sealing gearboxes, oil sumps, pumps, timing covers, thermostat housings, transmission pans, valve covers, axles, tanks and flanges.
This heavy duty RTV silicone gasket has the best compatibility with oils and greases of any of our silicones. Cure and adhesion will even occur if in contact with these fluids (though limit this as much as possible).
Black Seal is made in Germany and is one of our high temp RTV silicones. It withstands continuous exposure to conditions between -50°C and +280°C. It will also handle intermittent spikes up to 300°C.
Another benefit of Black Seal is the range of container types it comes in. For smaller jobs, the 85ml Squeeze Tube is ideal. For larger jobs, many choose the 310ml Cartridge (works with standard caulking guns).
We are also pleased to stock this quality silicone sealant in 200ml Press-Packs. These allow for very accurate application and control of the bead. They are a popular choice for people making more complex gasket shapes with Black Seal.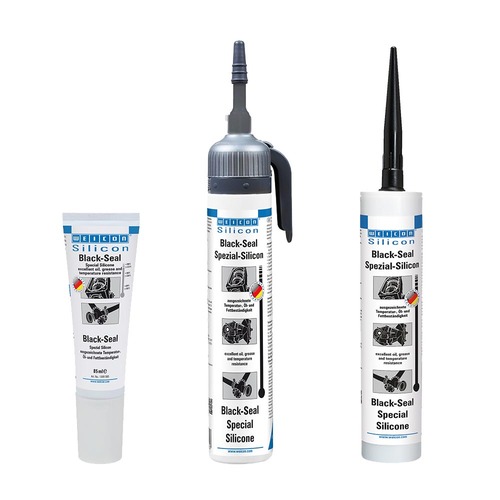 ✔
Excellent Oil and Grease Compatability
✔
-50°C to +280°C Temp. Resistance
✔
Very High Adhesive Force
✔
Available In 3 Pack Sizes / Types

Learn More or Buy Now.
HT 300 Red High Temp Silicone Sealant.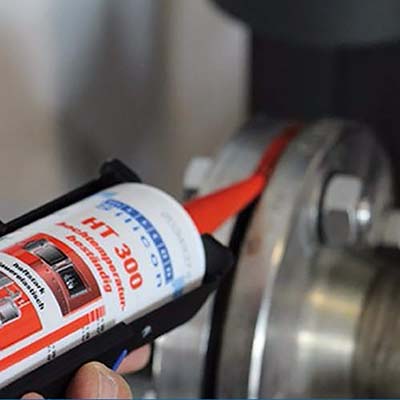 HT 300 Silicone has many elements in common with Black Seal. Both handle high operating temperatures (-50°C and +280°C continuous) and are room temperature vulcanising (RTV) silicones that are good options for making formed in place gaskets.
While Black Seal has superior compatibility with oils and greases, we find HT 300 to be a more popular choice for other high heat applications.
HT 300 is widely used as a adhesive of rope gaskets and is also used in industry for sealing heating equipment, boilers, flue gas systems, furnaces and more. It is also a popular choice for laminating silicone sheets or bonding silicone O Rings.
HT 300 is highly elastic with a maximum elongation of 500%. It is a good option for making silicone gaskets in situations where flanges are subjected to highly variable temperature conditions leading to larger degrees of expansion and contraction.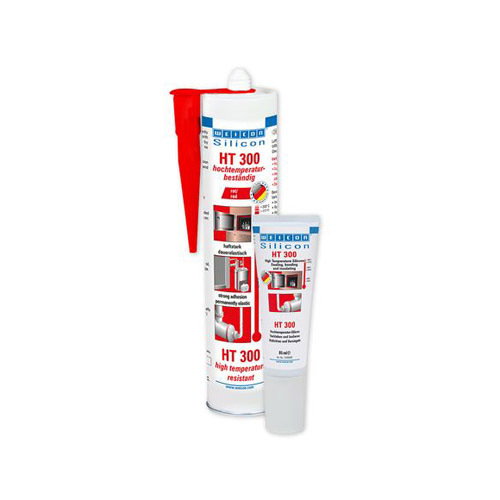 ✔
Excellent Heat Cycling Resistance
✔
-50°C to +280°C Temp. Resistance
✔
Permanently Elastic
✔
Available In 2 Pack Sizes / Types

Learn More or Buy Now.
Differences Between the Two.
Though they share many properties, HT 300 and Black Seal do differ by more than just colour. The table below provides an overview of some of their key characteristics. More information on each is available on the product page and TDS.
Property
Black Seal
HT 300
Colour
Black
Red
Basis
Acetate Silicone (One Part)
Continuous Temperature Resistance
-50°C to +280°C
Short-Term Temperature Resistance
300°C (2 Hour Maximum)
Skin Over Time
7 Minutes
12 Minutes
Cure Speed
2-3mm in the first 24 hours
Shore Hardness
30 Shore A
35 Shore A
Elongation At Break
500%
Learn More
Learn More
Black Seal and HT 300 Silicone Chemical Resistance.
Black Seal and HT 300 have very similar chemical compatibility profiles. Both are compatible with and withstand attack from the chemicals below.
A more comprehensive list for both adhesives is available on their respective TDS'.
✔

Acetic Acid

✔

Diesel / Heating Oil

✔

Motor Oil (Mineral and Synthetic)

✔

Alcohol

✔

Ethanol

✔

Petrol (92 to 100 octane)

✔

Ammonia (10%)

✔

Freon

✔

Salt Water / Sea Water

✔

Anti-Freeze

✔

Gear Oil

✔

Water

✔ Cooling Lubricant
(Water Dilutable)
✔

Hydraulic Oil
General Tips for Applying a Silicone Gasket Sealant.
For best adhesion and overall results, it is important to clean and dry all surfaces with a residue-free cleaner (such as our Surface Cleaner or Cleaner S).
Black Seal will tolerate some oil residue but this should be limited as much as possible.
Once surfaces have been prepped, cut the nozzle to the desired bead size (see separate instructions for Black Seal 200ml). Most gaskets are best formed using a bead between 1.5mm and 6.4mm. The exact size will depend on the flanges and alignment though.
Apply a continuous, even bead of the silicone to once surface. Ensure you surround all bolt holes. Assemble the parts while silicone is still wet. Finger tighten until the sealant begins to extrude from the flanges.
Further tightening should occur after the silicone has skinned over.
Both HT 300 and Black Seal High Temp Gasket Sealants will skin over fairly quick. Full cure usually happens in about 24 hours though this will depend on the operating conditions (warmer weather equals faster curing) and the size of the bead you have applied.
For more information, or assistance with specific applications, please do contact us.