We are pleased to introduce our Automatic Cable Stripper 7-F Magic. This precision electrician's tool is designed especially for flat, multi-strand cables. It automatically adjusts to the cable size to precisely strip away the insulation leaving the conductor perfectly intact.
In this post we'll cover the various features of this very high quality tool and explain how it can make your job easier.

Automatic Cable Stripper No. 7 F Flat Magic
Our Automatic Cable Stripper No. 7 Flat Magic is a professional grade cable & wire stripper that is fast, accurate and versatile. Designed and manufactured in Germany, this quality electrical tool can precisely strip the insulation from flat, multi-core cables as well as a wide range of round wires and cables.
Amongst its many features, this stripper automatically adjusts to the cable size used (no need for setting it when working with different cables), can handle a variety of cable types and can be easily used to strip back different lengths of insulation (8mm to 24mm range) thanks to the visual scales printed on both sides of the tool (one metric, one imperial).
In addition, our No. 7 Flat Magic Stripper also features an adjustment switch for changing the resistance of the action (useful when working with harder insulation sheathing) and an integrated side cutter.
Many of these features are demonstrated in the short video below. They're also explained in more detail further along in this article.
7F Cable Stripping Tool Overview Video
---
Automatic Adjustment to Different Cable Sizes.
One of the best features of our 7F Stripper is the automatic adjusting capability.
This means there's no adjustment needed before stripping cables and wires which will significantly speed up work and reduce the potential for errors. Simply insert the cable end into the stripper and pull the trigger.
Once trigger action will strip the outer sheath from double insulated multi-strand cables. A second will strip the secondary insulation around each individual wire.
Generally, most flexible round cables between 0.5mm² and 16mm² (24 – 10 AWG) can be stripped with this tool. It can also handle solid round cables between 0.5mm² and 10mm² (18-15 AWG). More information on this is included below.
Open Barrel for Stripping Mid-Length.
When you need to open up a cable mid length, or strip back a long length of insulation; the open barrel design of our 7F Cable Stripping Tool will be a real asset.
This lets you thread the cable through the tool right up to the point you want to strip. No need to cut the cable and then rejoin.
Integrated Side Cutter for Cutting Cables up to 3mm Ø.
Another handy feature of this tool is the integrated wire cutter built into the handle.
These recessed blades are safely positioned away from fingers but are quite effective at getting through various types of small cables and wires up to 3mm diameter.
This little feature will help cut down on the need to reach for another tool just to cut a length of wire after you've dismantled the main insulation.
---
7 F Flat Magic Cable Stripper Compatability Chart.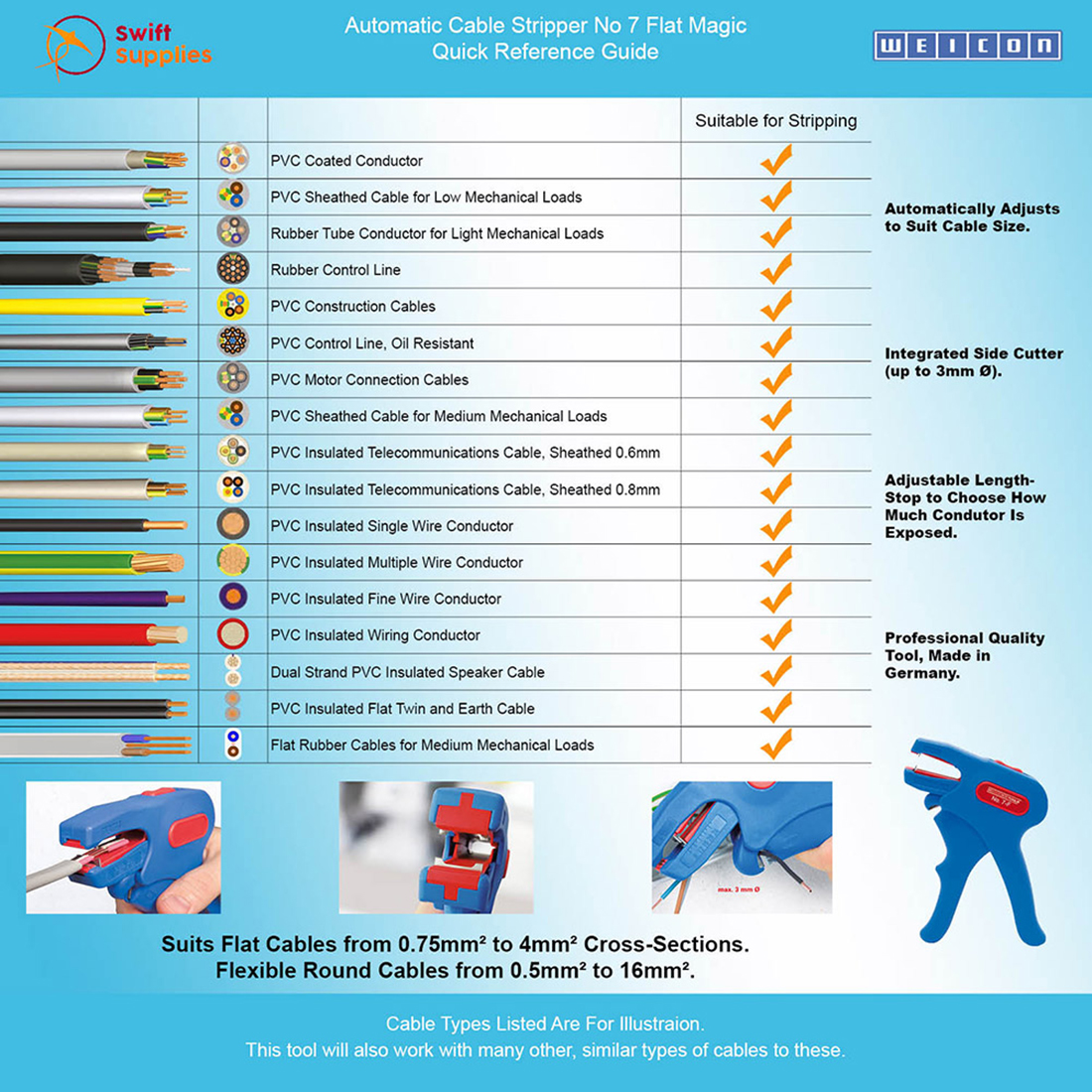 Specifications and Where to Buy.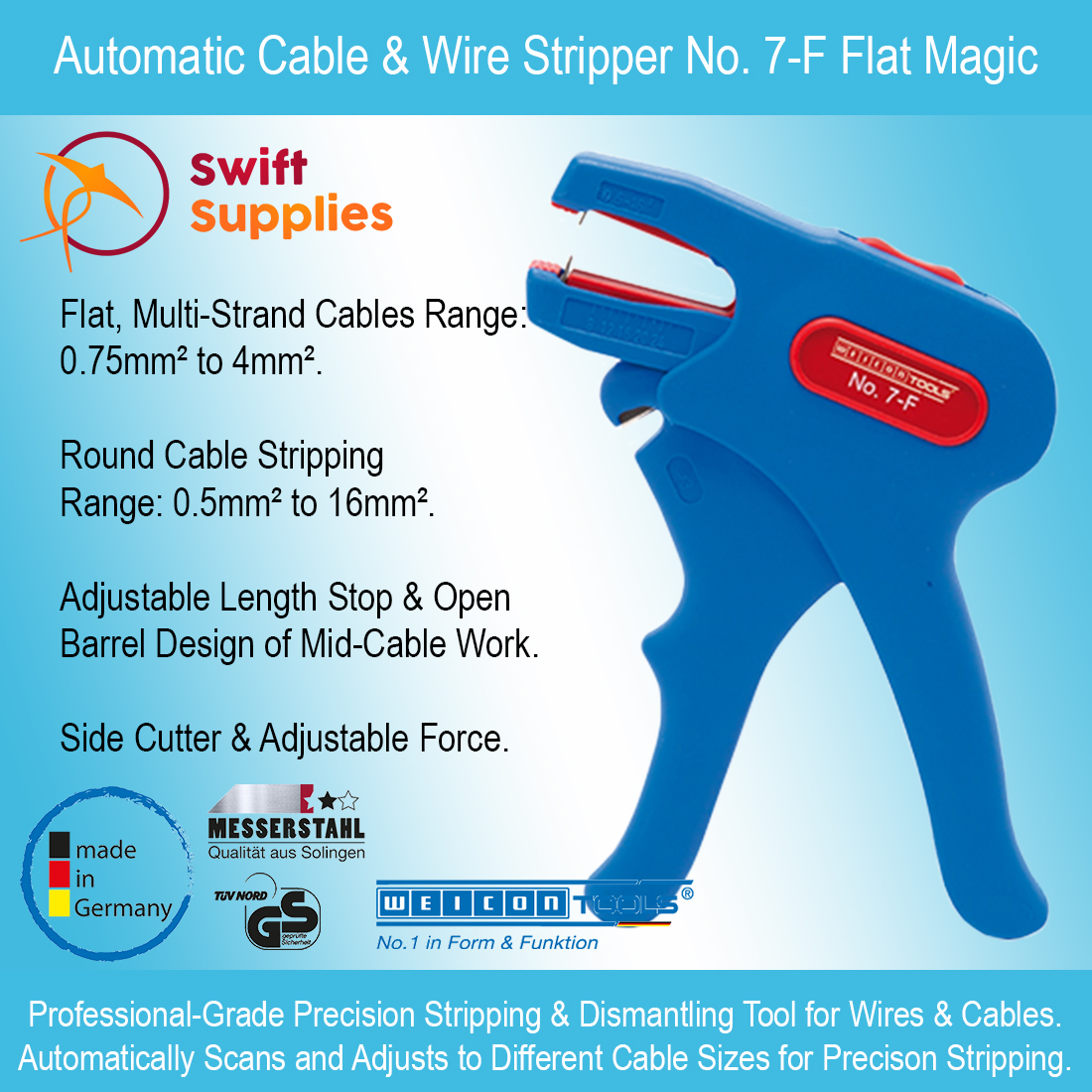 Cable Type
Fine Wired and Solid Conductors
Field of Use
Flat Cables: 0.75mm² to 4mm²
Flexible Cables: 0.5mm² to 16mm²
Solid Cables: 0.5mm² to 10mm²
Inner Blade
Replaceable
Additional Features / Benefits
Side Cutter, Cuts up to 3mm Ø Cable
Adjustable Length Scale.
Adjustable Force.
Approvals / Certifications
Safety Tested by TUV NORD
Accessories
Replacement Blade Set. Item No. 51100006
---