Vinyl / PVC Tape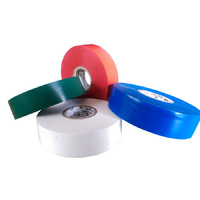 High quality PVC electrical tape from 3M. Scotch 35 has excellent adhesion, sticks to most surfaces, has good dielectric strength and creates moisture tight seals. It's available in a selection of fade resistant colours.
A tough, black, abrasion resistant PVC electrical tape with an aggressive rubber-based adhesive that sticks to most surfaces. 3M Super 33+ is able to be used in all weather conditions and creates moisture-tight electrical and mechanical seals.
Thin, strong and highly conformable. 3M Temflex 1610 PVC Electrical Tape has a fast acting adhesive that works with most surfaces and can be smoothly wrapped around irregular objects. This tape is available by the roll in a selection of colours.