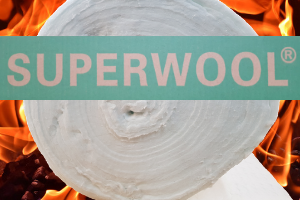 A non-hazardous fibre insulation blanket.

Looking for a high temperature material to use for general insulation purposes? We have just added Superwool Plus Fibre Insulation to our range. It's a blanket made from low bio-persistant fibres that's perfect for containing and protecting against radiant heat. It can be used for a whole range of insulation applications, with some of the most popular being for the insulation of ovens and fireplaces in both commercial and domestic settings, wrapping and insulating exhausts, pipes and chimneys and as back-up insulation in furnaces and kilns.
This flexible, wool-like material is able to insulate in applications that reach up to 1200ºC. It is available in roll form and each roll measures 610mm wide. The grade listed on our webstore has a density of 96 kg/m³ which should be fine for most common applications, though we can also source a denser variant should you require it, just get in contact. But not to bore you, read on to find out why Superwool Plus is the superior choice of fibre blanket insulation.
'Low-Biopersistant' Fibre – A Safer Alternative to Ceramic Fibre Insulation.
Did you know that RCF (Refractory Ceramic Fibre) insulation fibres are classified as hazardous? These days, most large construction projects will not allow the use of these materials however they are still available on the market. Superwool Plus Blanket on the other hand is made from AES (Alkaline Earth Silicate) fibres which are non-hazardous, so not only is it less irritating on the skin, nose and eyes, you can also be sure that you are meeting your health and safety regulations. It can also be disposed via conventional land-fill saving you money!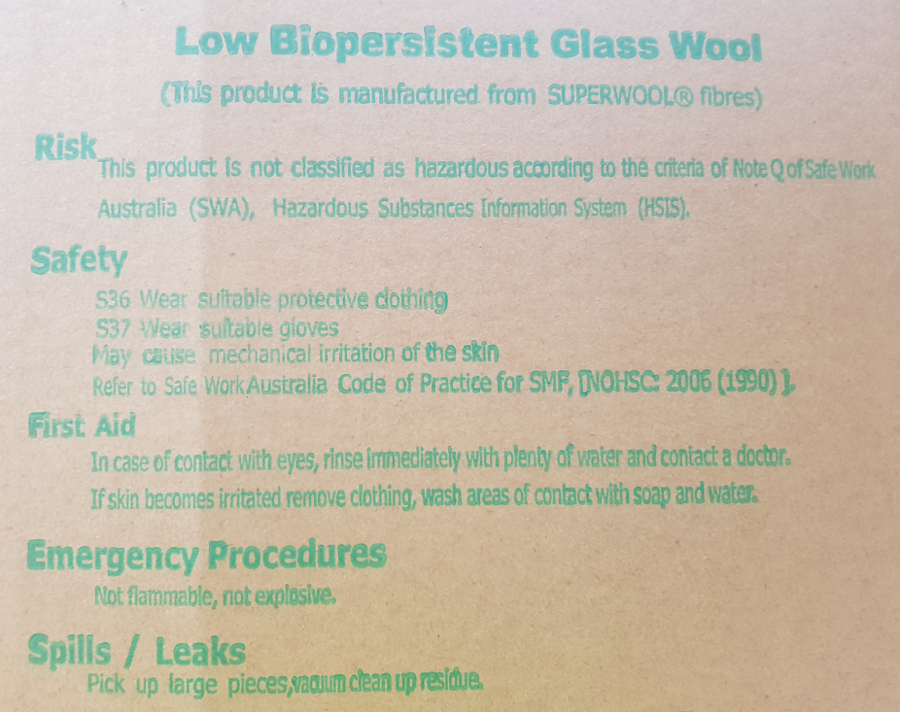 Superwool Safety Information (on the box).
Improved Insulation Performance.
Not only is Superwool Plus a safer choice, it's also a smarter choice. Because it's manufactured with up to 30% more fibres, thermal imaging studies confirm it provides up to 20% more efficient insulation performance when compared to other AES and RCF alternatives. How? Each individual Superwool fibre has a larger surface area than other kinds of fibre insulation on the market. This creates more material for the radiating heat to pass through, in turn providing greater insulation performance.
Easy to cut and fabricate.
Although Superwool plus blanket is strong and tear resistant, it can be cut using a sharp knife or blade as shown in this picture. It's quite soft, which means it can be bent, rolled and folded. It compresses quite easily when squeezed. We do recommend wearing some form of gloves when handling the material however, because although not harmful, the fibres can sometimes be a little itchy when they come in direct contact with skin. If it does happen however, just rinse them off under warm water!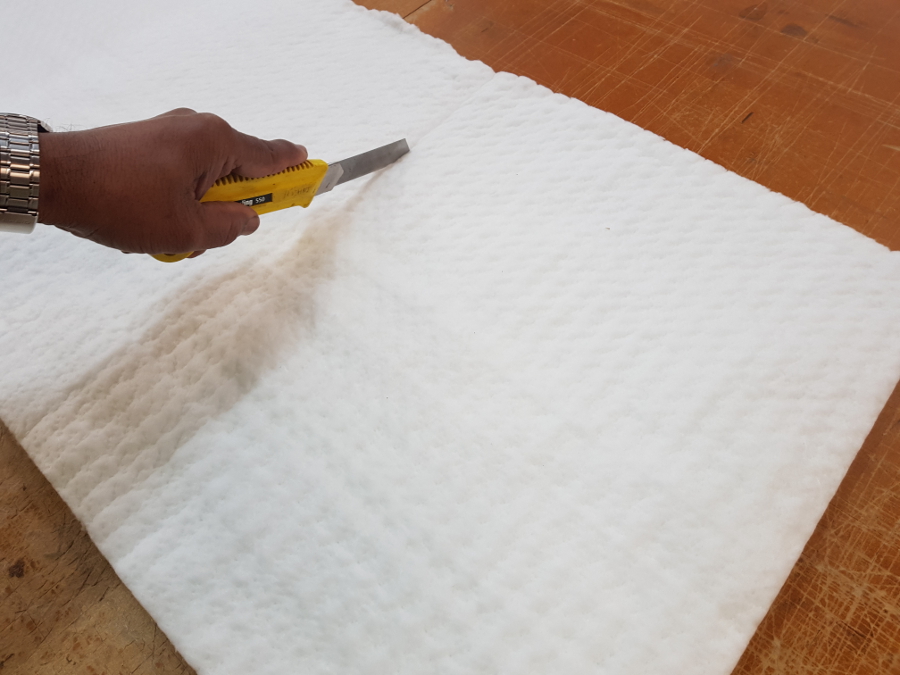 Easy to cut with a sharp knife or blade.
Available by the roll or cut length.
Don't need a whole roll? That's fine! Not only are we offering great prices on full rolls of Superwool Plus Blanket that include free delivery, we are also selling cut lengths. It may work out slightly more expensive per metre, but sometimes you just don't want to pay for a whole roll if you only need a couple of metres. Don't worry Swift has you sorted, just click the 'buy cut length' button below.
After a different kind of Thermal Insulation?
Does this product sound not quite right for your insulation application? We've got a huge range of other insulation products in stock ready for fast delivery! To check out the rest of our range including many of the products below, click here.