In this guide, we cover where Anti-Seize is used, the different types, methods of application and more.
What is Anti-Seize?
Essentially, it is a type of lubricant. Anti-Seize products are used on fasteners, flanges, bolts and other connections to prevent corrosion, galling and seizing. They also make dissasembly far easier down the track.
Anti-Sieze is a type of product and there's many different grades for differant applications (more on this later). When the correct solution is used, Anti-Seize offers a number of benefits:
Results in a more precise and consistent clamping load in fasteners. Especially important when ensuring even bolt load on gaskets between flanges.
Prevents pick-up and galling of fasteners during assembly.
Maintains a thin, separating barrier between surfaces during operation. This reduces wear and chances of premature loosening.
Protects against corrosion of parts by preventing water ingress and chemical attack.
Where Should Anti-Seize Be Used?
When needed, Anti-Seize should be applied in a thin layer to each part of an assembly.
When being used as part of a fastener assembly, Anti-Seize should be applied to...
The thread of the bolt or stud.
The face under the bolt head.
Unthreaded parts of the fastener if they will be inside the assembly.
The nut face.
The surfaces of the washer (if used).
The trick with Anti-Seize is that you don't need much (it's a bit like Super Glue here). A thin layer is best. In fastener assemblies, any excess will be naturally squeezed our during installation.
How to Apply Anti-Seize.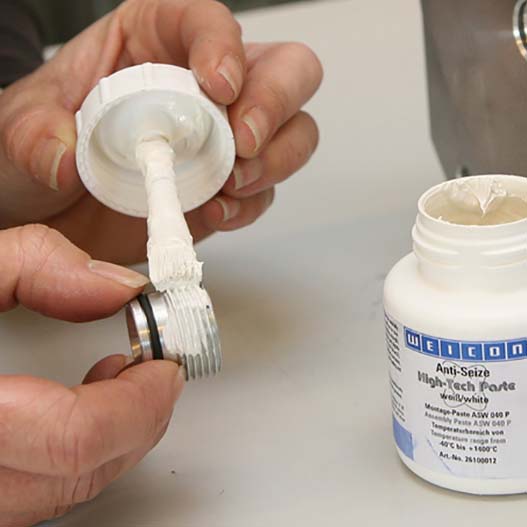 As mentioned above, you want to only apply a thin layer of Anti-Seize to surfaces. For a normal bolt assembly, a layer of around 0.1mm is sufficient. We've seen some guides that suggest filling the valleys of threads completely with Anti-Seize, this is pretty wasteful as all this excess will be squeezed out during tightening.
Before applying Anti-Seize, it is important to make sure the surfaces are clean and free from oil, dirt, grease or other contaminants.
With a Anti-Seize Paste, applying by brush is best (many of our Anti-Seize grades come in brush-top cans). This will give you a more even layer than using your finger.
One thing to note though, individual brushes should not be used for different Anti-Seize types. Even if cleaned. Cross-contamination (e.g. using the same Brush for Copper and High Tech Anti Seize) can cause issues and degraded performance.
If you're using an aerosol form of Anti-Seize you will usually spray from a distance of about 15cm. On threads, you should spray down the thread. Always check the instructions on the product though as not all are the same.
Re-Application of Anti-Seize.
Anti-Seize is not like a grease or oil where it needs to be reapplied from time to time. There's no re-greasing intervals.
Once applied, a good Anti-Seize Product is designed to last for the service life of the assembly. That said (like with gaskets), if a fastener is disassembled or pulled apart it is suggested that parts are cleaned and anti-seize is re-applied.
Choosing a Type of Anti-Seize.
There's many different types of Anti-Seize out there. Here at Swift, we stock three grades that cover the vast majority of applications. Each are available in a large range of pack sizes (everything from 30gm pens to bulk containers).
The individual characteristics and typical applications of each are covered below.
---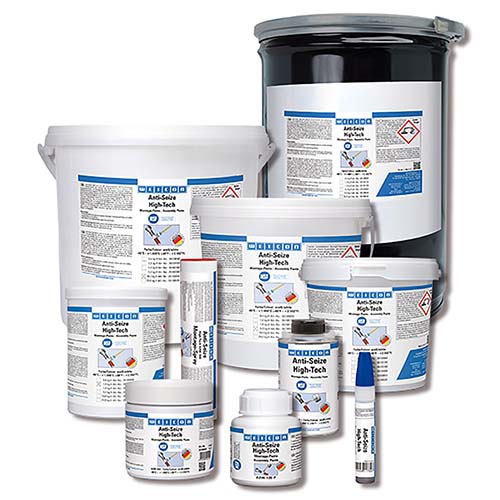 Colour
White
Coefficient of Friction
0.13
Base Oil
Medicinal
Temperature Range
-40°C to +1,400°C

Learn More or Buy Now.
Our best selling Anti-Seize. This industrial grade is metal-free, used on all kinds of metal (including stainless steel, titanium, copper, bronze, brass and more) and NSF Approved for use in the Food and Beverage industries.
This excellent assembly aid effectively protects against all kinds of seizing and corrosion. It is dielectric, has very high pressure resistance and very good chemical resistance.
---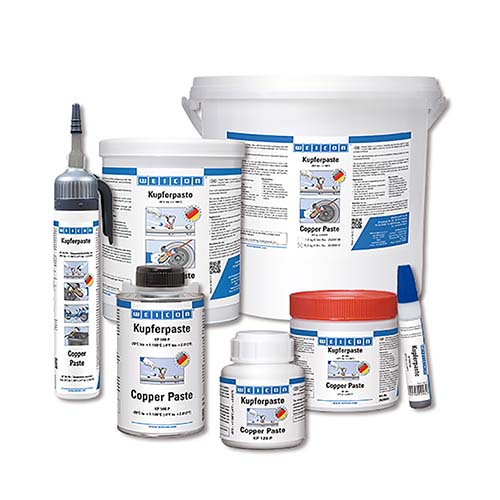 Colour
Copper
Coefficient of Friction
0.12
Base Oil
Mineral
Temperature Range
-20°C to +1,100°C

Learn More or Buy Now.
Our Copper Paste is most commonly used as an Anti-Seize in the marine sector. It is made from Mineral Oil combined with Copper and Graphite. It is widely used for lubricating fasteners and assemblies on wheels, brakes, battery terminals, hydraulics and other types of equipment.
This grade has excellent resistance to humidity and moisture and provides long lasting protection against corrosion, galling and wear.
---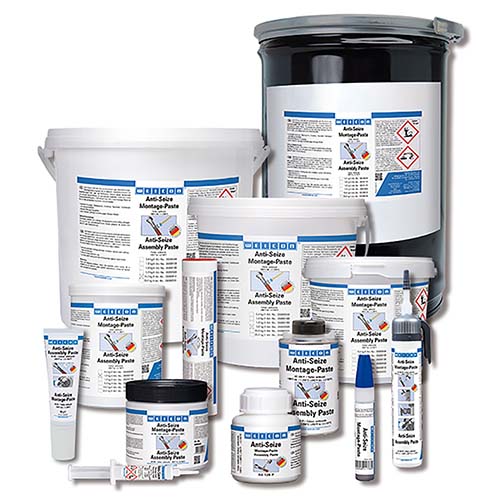 Colour
Dark Grey / Anthracite
Coefficient of Friction
0.14
Base Oil
Synthetic
Temperature Range
-180°C to +1,200°C

Learn More or Buy Now.
Excellent lubricity and long-lasting performance. This industrial grade Anti-Seize is designed for heavy-duty applications and is made with a combination of synthetic oil and metal flakes. It has a low coefficient of friction and effectively reduces wear, protects against corrosion and seizing.
This grade is particularly good at withstanding higher pressures and is free of toxic metals. It is also a good option for applications that require performance at low temperatures.
---
Looking for More Information?
Each of our types of Anti-Seize have a lot more information available from their product pages. You can see all the available pack types and sizes as well as access full technical and safety data.
If you still have questions about an Anti-Seize application, don't hesitate to get in touch. We'll help whenever we can.