Silicone Spray Lubricant is one of the more versatile types of lubricating spray in our range. In this post we list some of the many different areas it can be used.
Before we start with the list, a few words on our best-selling version of this spray-on, water resistant lubricant.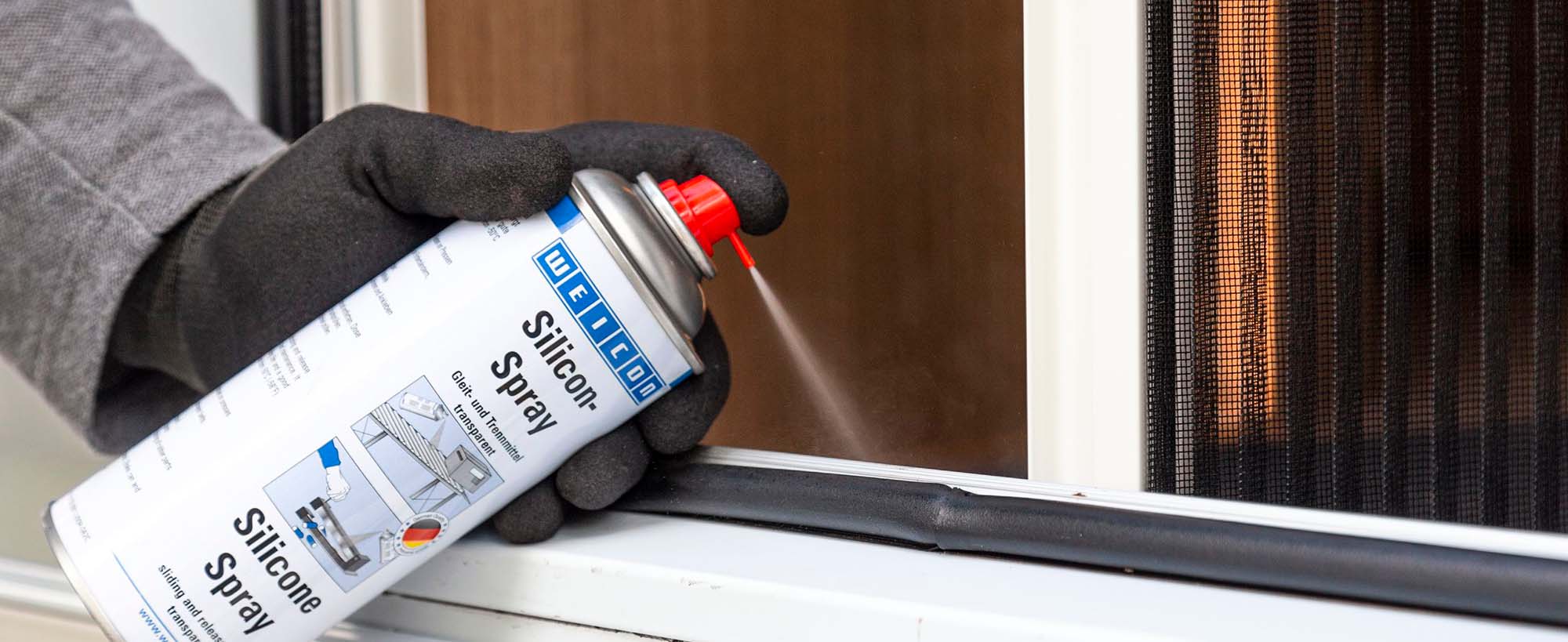 Weicon Silicone Spray Characteristics.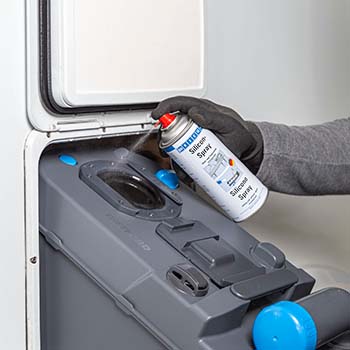 Manufactured in Germany, this quality multifunctional lubricant waterproofs and protects all kinds of surfaces. It is used extensively around Germany and Europe in everything from industrial settings through to the home improvement and DIY sectors.
Weicon Silicone Spray is considered by many to be a professional-quality, high-performance lubricant that provides long lasting lubrication.
It has a highly concentrated formula and can withstand temperatures ranging from -50°C to +260°C.
Once the spray dries, it leaves a clear film that doesn't stain and isn't sticky, so it won't attract dirt.
Uses for Silicone Spray.
The list below is just some of the many uses we've seen for silicone spray.
Lubricating Car Door Hinges, Locks and Levers.
Keeping these well lubricated reduces wear, makes opening and closing easier and helps eliminate noise.
Seatbelts and Seatbelt Guides.
If they're getting a little hard to use, or releasing too slowly, a little spray can help. Spray onto the extended belt and allow some time for it to react before feeding it back in.
Rubber Seals and Parts.
The seals around windows, doors and other areas of the vehicle have a habit of drying out over time. Variable temperatures, UV and other factors take their toll on any elastomer and make them brittle with reduced elasticity. This impacts their ability to seal.
Silicone Spray can help extended the life of these rubber seals and keep them functioning longer.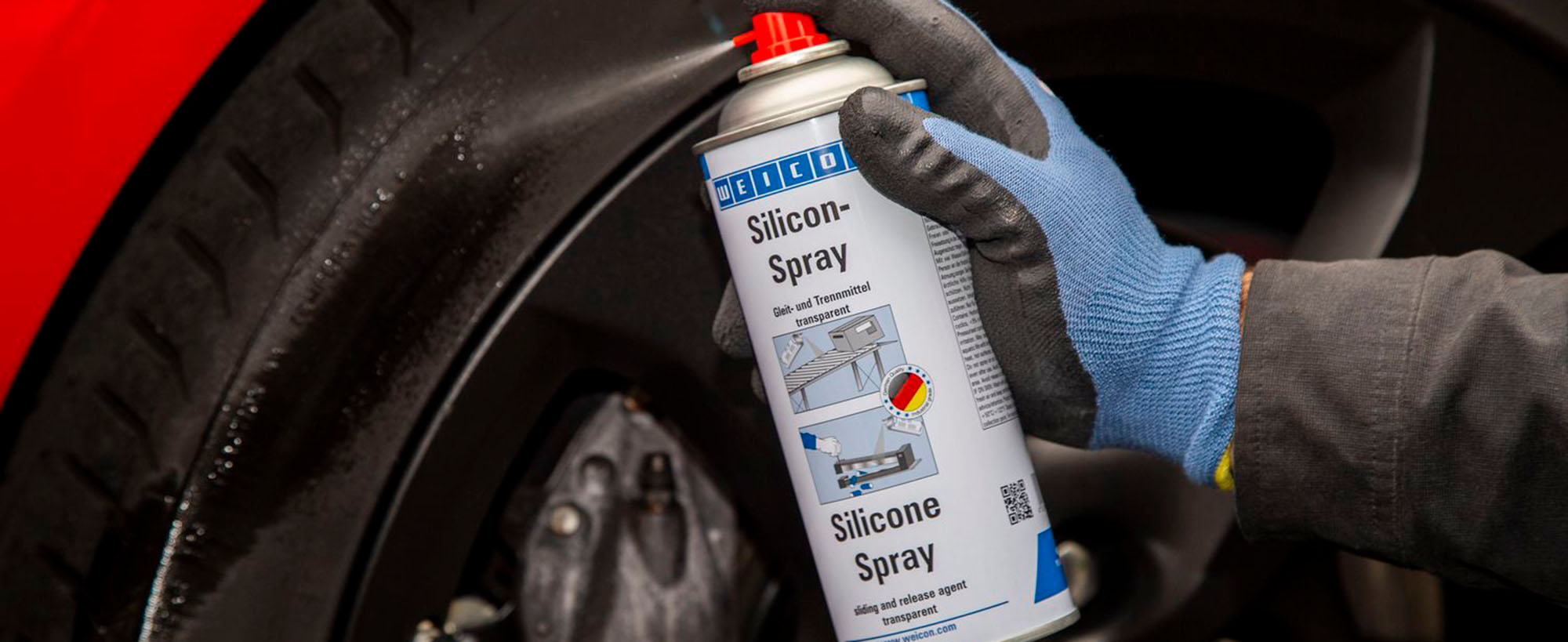 Sunroof Rails, Seat Tracks and other Moving Parts.
Over time these sorts of devices can become caked with dirt and other things that increase friction. Lubrication will help ease movement and reduce the amount of energy needed for their operation extending the life of the parts.
Lubricating and Protecting Blades, Knives, Dies and Cutting Surfaces.
Reducing the friction during cutting is important for tool life and cut integrity. Silicone oil can help with this as it is a natural lubricant and can handle the extreme temperatures sometimes generated during this sort of work.
Motorcycle Gear and Workwear.
Leather gear can be softened with this sort of lubricant.
Tools.
Many manual tools with moving parts (pruning snips) can be lubricated to increase tool life and ease of use. Our spray also helps protect these tools from rust and corrosion so applying a layer before storing them for a while is a good idea.
Sliding Doors.
Spraying the sliding door tracks with silicone help keep the door moving easily and smoothly.
Automatic Garden Hose Systems.
You know those automatic hose reels that retract the hose for you? Keeping them lubricated will help increase their life as there will be less friction during use. It'll also help protect and untreated metal that may be in the unit from moisture.
Wooden Tools.
Silicone is especially handy for wooden tools. It will prevent the wood from drying out and splintering, and it is also a great water repellent.
Breaking In New Shoes.
Silicone will help soften the leather on new shows making those first couple of times wearing them a little more comfortable.
Window Hinges, Latches, Locks and Weather Seals.
For the moving metal, silicone will reduce friction and create a protective layer.
For the rubber / foam seals, it will help keep elastic, compressible and able to affect a good, reliable seal.
Lubricating Gym Equipment.
A lot of home fitness gear features all kinds of hinges, rollers, pulleys and levers. We know, we've tried to put a few together and even succeeded once.
A bit of silicone spray will help keep the equipment in good working order and protect it from moisture and other impurities.
Some Industrial Uses for Weicon Silicone Spray.
You may have noticed most of the applications we've spoken about haven't exactly been industrial in nature. That doesn't mean that Weicon Silicone Spray isn't used in industry, just that it's a little harder to describe some of the applications we see it used for.
These include everything from lubricating guide rails, hoists, chains, hinges, bearings, and valves through to increasing the life of O-rings and v-ring seals and making their installation easier.
It is also used for lubricating rollers on conveyor lines, stressed belts, and rubber skirts.
It is often selected as a general-purpose lubricating spray for industry and will be found in many storerooms and workshops around the world.
This spray is also a mainstay in the marine sector. IMPA Code 4508 28 is and ISSA Code is 53.402.14.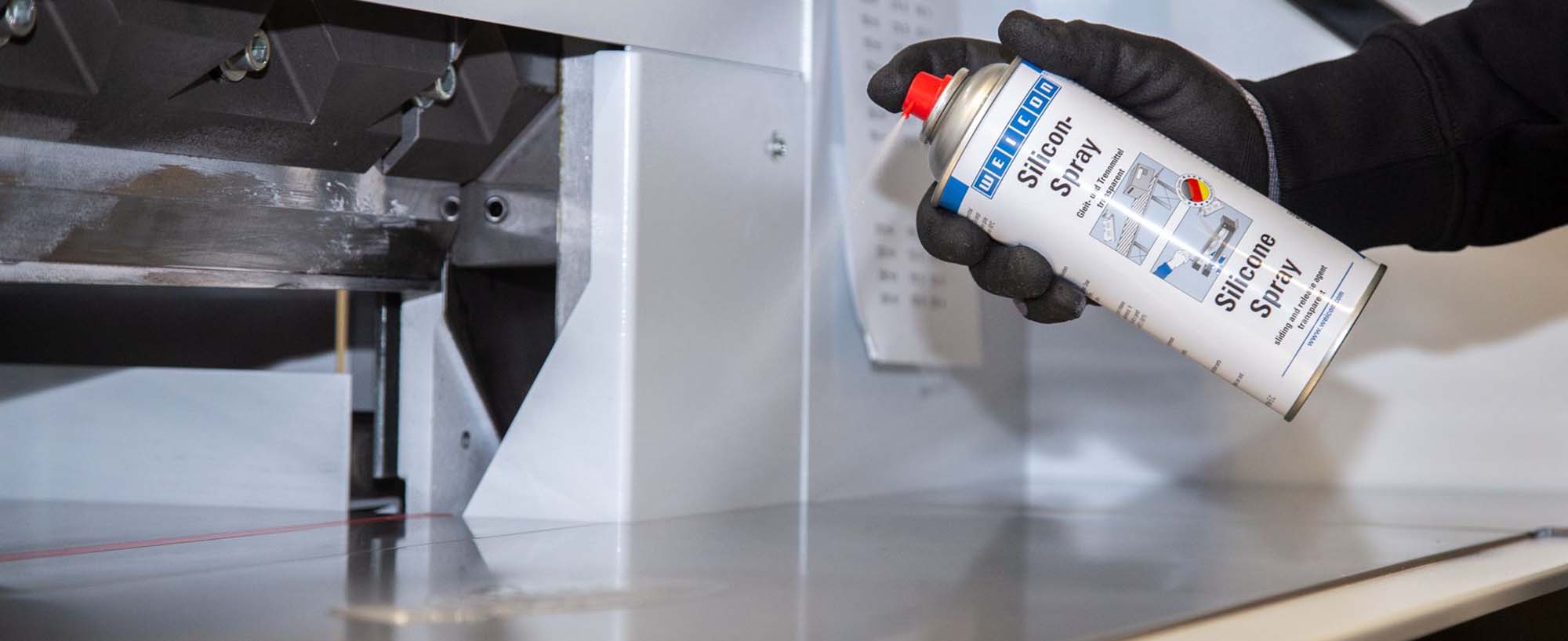 Silicone Spray in the Kitchen.
Another deliberate omission. There's a lot of places a silicone lubricating spray could be used in the kitchen, you just need to be careful with exactly where and what type you use.
The trouble with our general-purpose silicone spray in this setting is it tends to last.
Sounds like a humble brag, but it can be an issue because it is not certified as food grade.
The last thing you want to do is lubricate a surface, forget you have, then eat food from it weeks later when the lubricant may contaminate the food.
If you are looking for a Silicone Lubricant for food or beverage preparation areas or equipment, we usually suggest our Silicone Spray Fluid NSF. Also manufactured in Germany by Weicon, this spray has a slightly modified formula and, importantly, has been certified to NSF H1.
Where to Buy Weicon Silicone Spray.
You can buy this quality Silicone Lubricant directly from our website. We ship all around Australia.
---

✔
Highly Concentrated for Effective Lubrication
✔
Waterproofs & Protects Surfaces
✔
Suitable for Use With Almost All Surface Types
✔
Fast-Acting Spray that Leaves No Messy Residue

Learn More or Buy Now.