Adhesive sprays are among the easiest ways to bond all kinds of materials. Unfortunately, they've developed a bit of a reputation for not being that strong. This isn't always true. In this post, we present two of our strongest spray adhesives; one from 3M and one from Weicon Germany.
Why We Consider These Two to be Extra Strong Adhesive Sprays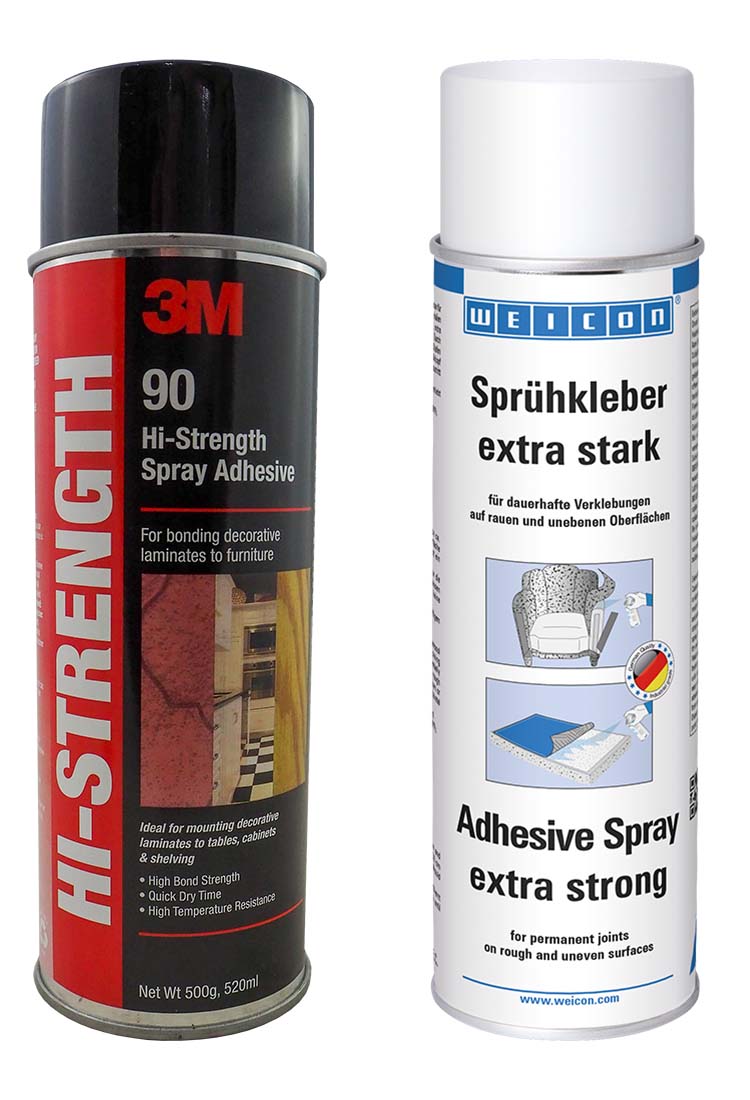 Our Weicon Adhesive Spray Extra Strong and 3M 90 Hi-Strength Spray Adhesive are just two products in our adhesive spray range.
They are also the two that exhibit the highest bond strength. This is due to their formulation. Both have a thick consistency that allows for high shear strength to the bonding surface and high tensile strength of the adhesive itself.
Both are also quite versatile and can be used on a wide range of materials.
Both 3M 90 and Adhesive Spray Extra Strong can be used to bond...
Felt (decorative, polyester, aramid, engineering or industrial).
Solid rubber sheet (except for Silicone rubber)
Sponge rubber (again, except for silicone sponge)
Insulating materials (e.g. expanded insulation foam, high temperature cloth, electrical insulation papers)
Soft foam (such as PVC sponge)
Carpets (perfect for affixing carpet tiles)
Plastics (Most types. Known exceptions include polyethylene, PTFE and polypropylene).
Vinyl
Leather
Imitation leather
Metal
Wood
PVC foil
Paper and Carboard
3M #90 and Weicon Adhesive Spray Extra Strong Comparison.
In our experience, the 3M 90 Spray is a little thicker and goes on something like very sticky spiderwebs. The Adhesive Spray Extra Strong is a little more liquid at first, however once its been allowed to set (evaporation time) it has a similar consistency.
The table below gives a brief overview of some of the similarities and differences between these strong spray on glues.
| | | | | |
| --- | --- | --- | --- | --- |
| | 3M 90 Spray Adhesive | | Adhesive Spray Extra Strong | |
| Colour | Transparent / Colourless | | Transparent / Colourless | |
| Base | Synthetic Elastomer | | Synthetic Elastomer | |
| Evaporation Time | 1 to 10 Minutes | | 5 to 15 Minutes | |
| Coverage per Can | 2.1mtr² (approx.) | | 4mtr² (approx.) | |
---
Typical Applications for Extra Strong Spray Adhesives.
Just some of the day-to-day uses for these sprays we see include:
Repairs to furniture.
Attaching panelling to boat interiors.
Repairs to car interiors.
Fixing rubber insulation materials to walls and surfaces.
Attaching rubber sheeting to ute trays.
Securing carpet tiles.
Attaching wall decals and stickers.
Bonding insulation to the inside of garage doors.
Securing rubber weather strip seals around windows and frames.
Laminating sponge sheets together.
Various craft and modelling bonding work.
Attaching plastic, rubber or metal sheeting to bench tops and work surfaces.
Securing insulation to the wall and/or roof of garden sheds.