Thick, pasty super glue that's perfect for porous surfaces or larger bonding gaps.
Slow curing to allow for position correction after applying the glue.
Strong cyanoacrylate adhesive which works with most surfaces and materials.
Weicon VA Contact Gel Super Glue is a special kind of cyanoacrylate adhesive made in Germany. This type is really thick and paste like so it can be applied very accurately and will work on porous materials like sponge, cork or foam. It can also be applied to vertical surfaces without running and can be used to cover larger gaps than most industrial super glues.
Weicon VA Contact Gel Super Glue is slow curing (at least by super glue standards) which allows you to reposition parts after you've applied the glue. This is ideal when working with small, difficult to align parts when building models, assembling electronics or working in confined spaces.
Initial adhesion times vary depending on the environment and the materials you're bonding but you can expect something like 20-30 seconds for rubber or 40-80 seconds on PVC. It will be fully cured after about 24 hours (assuming 23°C temperature and 50% relative humidity).
VA Contact Gel Super Glue is clear in colour. It withstands ongoing exposure to temperatures between -50°C and +80°C (as well as short spikes up to 100°C). It can be used with metals, rubber (except EPDM), wood, glass, ceramics, leather and most types of plastics.
Applications for Contact Gel Super Glue
Model making.
Bonding leather.
Bonding rubberised or plasticised sponge or foam.
Bonding cork or porous sealing materials.
Gluing cloths and woven materials.
Fixing cables and leads in electronics (it has high dielectric strength).
Gluing balsa wood .
Bonding objects to vertical surfaces.
Gluing objects that require high precision placement.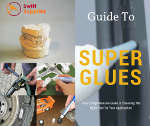 Not sure if this is the best glue for you, we really reccomend checking out our Guide to Super Glues and the fantastic Weicon Adhesive Finder Tool which is also available as a free app for iOS and Android.
(SWP000094)
Where should I keep the container if I don't use it all at once?
Cyanoacrylates are best kept refrigerated (especially in Australia). Make sure the lid is on tight (air tight in fact) and keep the pen in the fridge is our suggestion. That'll extend the usable life significantly.
Will this stick fabric?
Usually, yes. The only reason we won't say so unequivocally is there are some plasticised fabrics out there that are very hard to bond (such as anything made by Gore which tends to involve Teflon). For almost anything else, yes this is the ideal glue to use thanks to its thickness.
Can I apply this to vertical surfaces?
Yes. Contact Gel Super Glue is so thick and pasty that you'll be able to apply it to these surfaces without it running.
| | |
| --- | --- |
| Colour | Colourless / Clear |
| Initial Adhesion on Nora Test Rubber | 20-30 Seconds |
| Full Cure | 24 Hours |
| Viscosity (20°C Brookfield) | 60,000-90,000 MPa |
| Continuous Temperature Resistance | -50°C to +80°C |
| Short-Term Temperature Resistance | +100°C |
| Squatting Temperature | 150°C |
| Max. Gap Covering Power | 0.2mm |
| Ester Type | Ethyl |
| Potable Water | Not Approved |
| Food Applications | Not Approved |
| Shear Strength Adhesion to Sand-Blasted Steel | 21 N/mm² (DIN 53283) |
| Shear Strength Adhesion to Rigid PVC | 13 N/mm² (DIN 53283) |
| Shear Strength Adhesion to ABS | 12 N/mm² (DIN 53283) |
| Shear Strength Adhesion to NBR | >8 N/mm² (exceeds strength of rubber) (DIN 53283) |
Material Compatability

| | |
| --- | --- |
| Metal | Compatible |
| Plastic | Compatible (High Surface Energy and Medium Surface Energy Plastics Only) |
| Rubber | Compatible |
| EPDM Rubber | Not Compatible |
| Wood | Compatible |
| Balsa Wood | Highly Compatible |
| Glass / Ceramic | Highly Compatible |
| Leather | Highly Compatible |
For more technical details, use guidance and product details please see our Technical Data Sheet for VA Contact Gel Super Glue (located on the Media tab for this product).
| | |
| --- | --- |
| SKU | SWP000094 |
| Brand | Weicon |
Be The First To Review This Product!
Help other Swift Supplies Online Pty Ltd users shop smarter by writing reviews for products you have purchased.
---
We Also Recommend
---
Others Also Bought
---
More From This Category