An excellent all-round super glue suitable for a variety of application areas
Medium viscosity and extended cure time for precision placement
Available in a variety of sizes
Weicon VA 100 Universal Industrial Super Glue is an incredibly versatile adhesive designed for maximum surface material compatibility. This German engineered and manufactured cyanoacrylate adhesive bonds to metals, rubbers, glass, ceramic, leather and most plastics as well as wood, balsa wood and even EPDM rubber (which is notoriously difficult to bond to).
Weicon VA 100 Universal Industrial Super Glue has a medium viscosity and is transparent in colour. It also features a slightly extended cure time (compared to grades like our VA 8406 or VA 8312) which allows for precision placement of the bonded parts.
Applications for VA 100 Universal Industrial Super Glue
Bonding rubber seals
Repairs to plastic parts
Bonding metal components
Jewellery making
Craft
Model making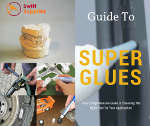 Not sure if this is the best glue for you, we really reccomend checking out our Guide to Super Glues and the fantastic Weicon Adhesive Finder Tool which is also available as a free app for iOS and Android.
(SWP000003)
Where should I keep the container if I don't use all the glue at once?
Cyanoacrylates are best kept refrigerated (especially in Australia). The container lid must be on air tight before storing it in the fridge which will extend the usable life of the glue significantly.
How long do I have to hold the parts together for?
It depends a little on the conditions the glue is used in. Generally speaking, you'll probably be fine with most materials after 30-60 seconds (at most); this time can vary. For example, if you're using VA 100 to bond metal to glass initial adhesion will be achieved in about 60 seconds if the environment you're working in is around 23°C and 50% humidity. Warmer temperatures or higher humidity will speed this up.
Colour: Colourless / Clear
Initial Adhesion on Nora Test Rubber: 3-20 Seconds
Fully Cured: 24 Hours
Viscosity (20°C Brookfield): 60-120 MPa
Continuous Temperature Resistance: -50°C to +80°C
Short-Term Temperature Resistance: 100°C
Squatting Temperature: 150°C
Max. Gap Covering Power: 0.15mm
Ester Type: Ethyl
Potable Water Approved: No
Food Applications: No
Shear Strength Adhesion to Sand-Blasted Steel: 20 N/mm² (DIN 53283)
Shear Strength Adhesion to Rigid PVC: 13 N/mm² (DIN 53283)
Shear Strength Adhesion to ABS: 12 N/mm² (DIN 53283)
Shear Strength Adhesion to NBR: >8 N/mm² (exceeds strength of rubber) (DIN 53283)
IMPA: 81 29 27 (12gm Pen), 81 52 42 (30gm Pen), 81 52 43 (60gm Pen)
ISSA: 75.629.01 (12gm Pen), 75.629.02 (30gm Pen), 75.629.03 (60gm Pen)
General Material Compatibility
Metal: Highly Compatible
Plastic: Highly Compatible (High Surface Energy and Medium Surface Energy Plastics Only)
Rubber: Highly Compatible
EPDM Rubber: Compatible
Wood: Compatible
Balsa Wood: Compatible
Glass / Ceramic: Highly Compatible
Leather: Highly Compatible
For more technical details, use guidance and product details please see the attached Technical Data Sheet (located on the Media tab for this product).
| | |
| --- | --- |
| SKU | SWP000003 |
| Brand | Weicon |
Be The First To Review This Product!
Help other Swift Supplies Online Pty Ltd users shop smarter by writing reviews for products you have purchased.
---
We Also Recommend
---
Others Also Bought
---
More From This Category