In this article we focus on one particular attribute of various types of elastomers; their ability to withstand UV light.
Prolonged exposure to direct sunlight can have a detrimental affect on rubber compounds, however some hold up in this environment far better than others. Here we detail some of the factors that come into selecting a rubber for outdoor use and provide an overview of the best types of rubber sheet for these applications.
Factors Affecting an Elastomer's Weather Resistance.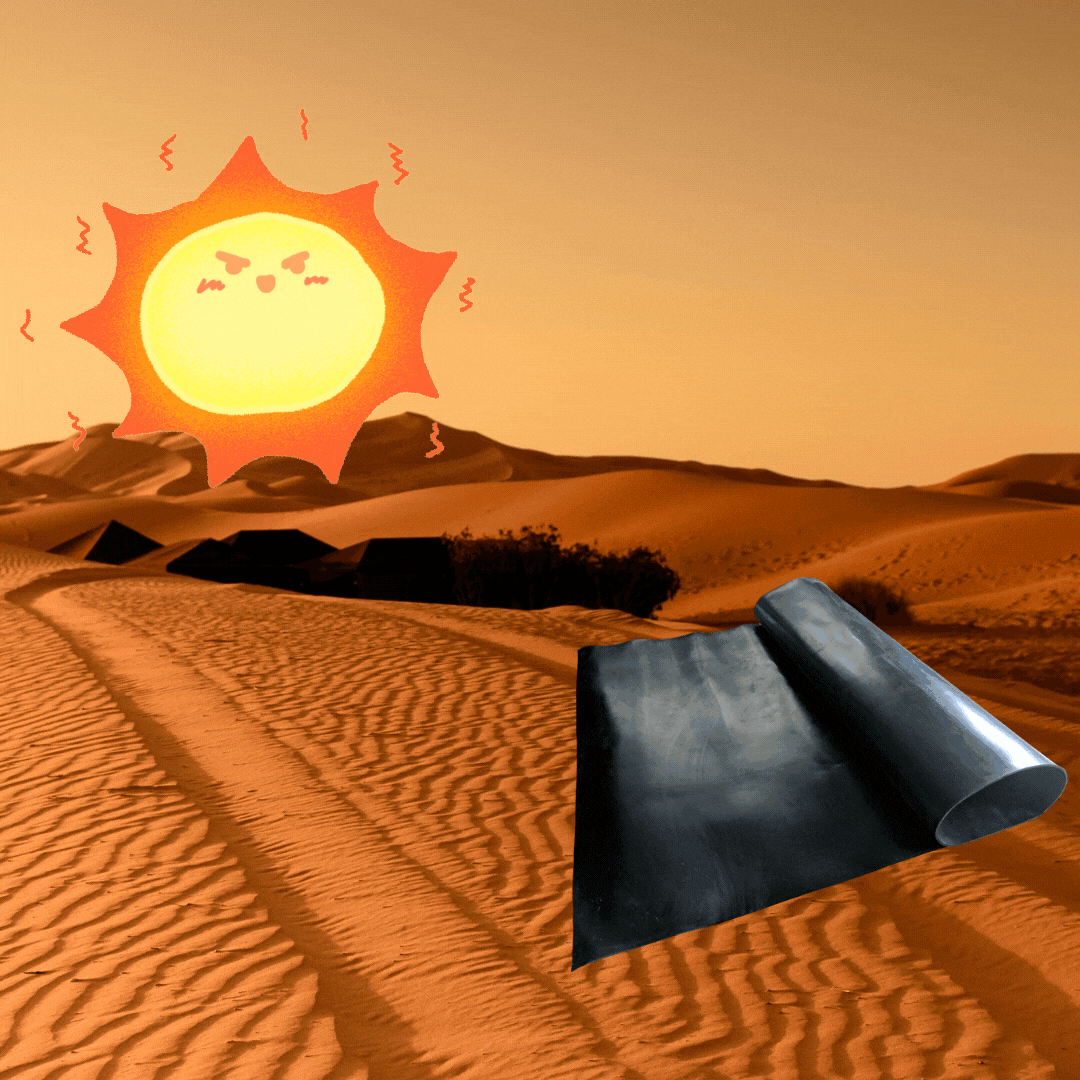 To choose a rubber that will perform well, it is important to understand the factors it will be exposed to. Given that most of you reading this would be looking for a rubber to be used outdoors, it is necessary to consider more than just UV resistance. Other things that will impact the rubber often include heat from sunlight, overall application temperature and ozone.
Sunlight
The heat generated from exposure to direct sunlight will, of course, vary depending on conditions. That said, in some circumstances direct exposure can raise the internal temperature of a rubber component to above 60°C. The nature of the heat source also results in repeated heat cycling which can cause some elastomers to become brittle faster, accelerating their compression set and reducing elasticity.
Temperature
Similar to the above, different application conditions will impact your selection of a rubber material. Most elastomers will handle at least 70°C, past that the list of viable compounds begins to decrease. If your application requires a rubber seal for over 130°C options become very limited with the two main ones being silicone rubber and Viton rubber (both of which have excellent UV resistance).
Ozone
This occurs naturally so all rubbers have some resistance. However, it can also be generated in more concentrated amounts (such as in outdoor enclosures which house electrical equipment). In these situations, choosing a rubber with good ozone resistance will increase the life span of the part.
Rubber Weather and UV Resistance Table.
The table below contains an overview of the most common types of rubber compounds ability to withstand UV light, weathering and to hold up outdoors.
We've rated these from Poor to Excellent.
Please note that this information is general in nature and does to every grade of rubber equally. Different grades of silicone will behave differently outdoors. Similarly, composite materials often take on the characteristics of their weakest ingredient depending on their construction.
| Rubber Type | Weather Resistance | Abbreviation |
| --- | --- | --- |
| Butyl Rubber | Excellent | IIR |
| EPDM Rubber | Excellent | EPDM, EPM |
| Natural Rubber | Poor / Fair | NR, IR |
| Neoprene Rubber | Good | CR |
| Nitrile Rubber | Fair | NBR |
| Silicone Rubber | Excellent | SI |
| Styrene Butadiene Rubber | Poor / Fair | SBR |
| Viton Rubber | Excellent | FKM |
It's quite clear that the best options for prolonged outdoor exposure include Butyl, EPDM, Silicone and Viton (Neoprene is also viable in a lot of applications and is more economical). Below we cover a few of each types main features and include links where you can find more information of shop our large range of rubber sizes.
EPDM Rubber.
EPDM has excellent weather resistance and is available in a large range of sizes. Quality grades of EPDM Rubber Sheet withstands attack from ozone, oxygen and a range of chemicals and dilute acids and alkalis. This type or rubber can tolerate moderate heat up to 120°C. It also handles low temperatures ok (down to -30°C).
One issue with EPDM is that is slightly harder to bond than most rubber compounds (silicone is worse again). We do have glues for the job though (including our GMK 2510) so don't hesitate to contact us if you need an adhesive for gluing EPDM rubber.
Our industrial grade EPDM is available in a number of different forms online. It is sold by the metre (1200mm wide) and in a huge range of cut strip sizes. A potable water grade is also available.
For custom EPDM gaskets, strips or parts, please don't hesitate to contact us.
---
Silicone Rubber.
Silicone is an extremely versatile sealing material that is highly resistant to oxygen, ozone, UV light, aging, weather and a wide temperature range.
This elastomer is able to withstand temperatures between -60°C and +260°C and tolerates hot cold cycling well. As mentioned above, one issue with Silicone is gluing it. Silicone adhesives are generally compatible however if you are looking for another type of glue to bond silicone sheet, please do contact us and we can assist.
We stock silicone rubber in a huge range of sizes and colours. Some of the more popular forms that are available from our website are listed below. We also product all kinds of silicone gaskets and parts. Some are available to browse online. The vast majority are made to order. For information on custom silicone parts, please do contact us.
Viton Rubber.
As the table above illustrates, Viton Rubber (FKM) has excellent UV and weather resistance. However, given its high price, it is less commonly used. That said, demanding applications are solved with Viton gaskets every day. Oftentimes, these situations require an elastomer with excellent chemical resistance, physical properties and high temperature resistance.
If these requirements match those of your application Viton may be the solution. We stock Viton Rubber Gasket Sheet in a large range of sizes and can product all kinds of Viton gaskets and seals. For more information on these, or to request a quote, please do contact us.