Key Features
Black, rubber-filled super glue with high temperature resistance
Ideally suited for bonding various types of rubber, plastics and metals
Good residual elasticity lets it tolerate some joint movement, ideal for high humidity and changing temperatures
Description
Weicon VA 30 Black Rubber Filled Super Glue is a special form of cyanoacrylate adhesive designed to offer enhanced elasticity after curing. Designed and manufactured in Germany, Weicon VA 30 has an extended cure time (which allows you to work with it longer), is black in colour and has good impact strength.
This combination of properties makes VA 30 particularly useful for bonding and joining in areas where some slight movement is expected after cure. It is also able to withstand changing climatic conditions and isn't affected by humidity (once cured). VA 30 Rubber Filled Super Glue is used in temperatures between -50°C and +140°C.
Applications
Bonding of rubber cords, seals and pieces
Bonding and fitting rubber sponge and rubberised foam
Sticking rubber seals, door trims or strips to metal frames
Bonding rubber components to plastic casings
Anywhere black super glue is required for appearance purposes
Bonding and fixing parts used in areas with large changes in temperature
Bonding jobs that require a super glue with higher tolerance of movement of the bonded components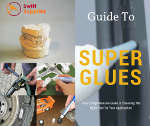 Not sure if this is the best glue for you, we really reccomend checking out our Guide to Super Glues and the fantastic Weicon Adhesive Finder Tool which is also available as a free app for iOS and Android.
(SWP000004)
Can VA 30 be used with EPDM Rubber?
Yes, it can. EPDM can be one of the trickier rubbers to bond, but VA 30 will do the job. When even stronger adhesion is required the use of the CA Primer will increase the bond strength even more.
How do you apply this adhesive?
Straight out of the bottle onto one of the surfaces being bonded is best. The special pen shaped bottle makes application a lot easier and more natural which leads to greater accuracy and less wastage.
Make sure to clean the surfaces first. Super glues like VA 30 will stick to anything, including dust.
Why is there rubber in it?
The rubber is added to increase the residual elasticity of the adhesive. Put another way, it allows Weicon VA 30 to have a higher tolerance for movement after it's cured.
One of the drawbacks with super glues is that they aren't great at coping with joint movement, at least compared to things like silicone adhesives. While VA 30 Black is not in the same league as a silicone at this, it's definitely better at it than most super glues. This matters when you're fixing or bonding parts that are going to be placed in high humidity areas or in environments where temperatures change a lot.
Where should I keep the container if I don't use it all at once?
Cyanoacrylates are best kept refrigerated (especially in Australia). The container lid must be on air tight before storing it in the fridge, which will extend the usable life of the glue significantly.
Colour: Black
Initial Adhesion on Nora Test Rubber: 5-10 Seconds
Fully Cured: 24 Hours
Viscosity (20°C Brookfield): 250-300 MPa
Continuous Temperature Resistance: -50°C to +140°C
Squatting Temperature: 160°C
Max. Gap Covering Power: 0.2mm
Ester Type: Ethyl
Potable Water Approved: No
Food Applications: No
Shear Strength Adhesion to Sand-Blasted Steel: 22 N/mm² (DIN 53283)
Shear Strength Adhesion to Rigid PVC: 14 N/mm² (DIN 53283)
Shear Strength Adhesion to ABS: 11 N/mm² (DIN 53283)
Shear Strength Adhesion to NBR: >8 N/mm² (exceeds strength of rubber) (DIN 53283)
IMPA: 81 52 53 (12gm Pen), 81 52 54 (30gm Pen), 81 52 55 (60gm Pen)
ISSA: 75.629.60 (12gm Pen), 75.629.61 (30gm Pen), 75.629.62 (60gm)
General Material Compatibility
Metal: Compatible
Plastic: Highly Compatible (High Surface Energy and Medium Surface Energy Plastics Only)
Rubber: Highly Compatible
EPDM Rubber: Compatible
Wood: Compatible
Balsa Wood: Compatible
Glass / Ceramic: Compatible
Leather: Compatible
For more technical details, use guidance and product details please see the attached Technical Data Sheet (located on the Media tab for this product).
| | |
| --- | --- |
| SKU | SWP000004 |
| Brand | Weicon |
Be The First To Review This Product!
Help other Swift Supplies Online Pty Ltd users shop smarter by writing reviews for products you have purchased.
---
We Also Recommend
---
You May Also Like
---
Others Also Bought
---
More From This Category